Face to Face with Dan Chiasson
Poetry in Motion
Diane Speare Triant writer
Brian Smith photographer
Poet dan chiasson, 38, a Wellesley College assistant professor, Guggenheim Fellow, and newly appointed Poetry Editor of the venerable Paris Review, is working to keep the fragile genre relevant for a new generation. And he's got the Byronesque curls to pull it all off!
A native of Burlington, Vermont and graduate of Amherst College, Chiasson first came to know the town of Wellesley while pursuing his doctorate at Harvard in the 1990s. The person he considered "one of the greatest American poets," Frank Bidart, was a professor at Wellesley College and conducting poetry workshops there. Chiasson signed up as an auditor, and immediately asked Bidart to critique his work.
"If he said a poem worked, I could relax," recalls Chiasson. "If he told me it didn't, I would go into a frenzy getting it right."
Now Chiasson and Bidart are teaching colleagues at Wellesley, and Chiasson has written two volumes of poetry: The Afterlife of Objects (The University of Chicago Press, 2002) and Natural History (Alfred A. Knopf, 2005). He has also added a family into the mix, living in Sudbury with his wife, Annie Adams—a brand director at Clarks Shoes—and their two young sons, Louis and Nicholas. With Chiasson working in Wellesley and both boys attending pre-school here, the family has become engaged in town life.
"I like the sandwiches at Tutto Italiano," the affable poet tells us, "and the little houses along Cottage Street. I like just spilling into town from campus with our kids, stopping into the Booksmith so our boys can snuggle with that giant teddy bear. We also adore the Wellesley Free Library where we've spent many winter afternoons in the children's section."
In his professional life, Chiasson has left no niche of the poetry world unexplored. Professor, poet, critic, and editor, he is currently teaching poetry analysis to Wellesley College undergraduates, putting the final touches on his own third volume of poems, and reviewing poetry for both The New Yorker and The New York Times Book Review —all while immersing himself in his new editorial duties at The Paris Review.
WellesleyWeston: The late and legendary George Plimpton co-founded The Paris Review as a twenty-something expatriate in 1953 Paris. How does it feel sharing the masthead with such an icon?
Dan Chiasson: A little unreal. Like going to Red Sox Fantasy Camp.
WW: What qualities do you seek in a poem for TPR?
DC: I want to be surprised. Simply that. I want my head to be turned.
WW: Wearing your hat as poetry critic for such erudite publications as The New Yorker and The New York Times Book Review, what is your reaction to TPR's founding goal of "removing criticism from the dominating place it holds in most literary magazines and putting it pretty much where it belongs, i.e., somewhere near the back of the book."
DC: It was, and is, a corrective to other kinds of magazines that, especially when TPR was founded, did too much reviewing for its own sake, hired too many snarky young people from the salubrious colleges to take swipes at writers. I like book reviews, read them, write them, but TPR is really special in the sympathy it extends to writers.
WW: What is the purpose of your own poetry?
DC: To temporarily exhaust my interest in writing poetry. That can only be done by writing a poem that pleases me; so I hold myself up to what feels like a high standard, which, if I didn't meet, I would still be gnawing to write.
WW: Is a poem's meaning derived from the poet's intent or the listener's interpretation?
DC: Actually meaning is a collaboration between writer and reader. I think of poems as kits for putting meaning together. If I don't provide the kit and the instructions, meaning doesn't get made. If the reader doesn't do the assembling, no meaning results. Poems can be "bad"— ineffective—either by assembling themselves into meaning, leaving the reader with no work to do, or by neglecting to include an instruction manual.
WW: You say that to create a new work effectively, its evolution must in some way renounce its predecessor(s). Please explain.
DC: All of the arts grow by repudiation of past forms. Poets give themselves an allowance to disparage their own art, their own utterances. But even more, to disavow the very poem that they are in the process of writing—and to do so in the poem itself! T.S. Eliot's "East Coker" is an example. I can remember first encountering that poem in high school, and the moment being a portal into secrets about the poets' craft. The poem is most beautiful where it's crossing itself out. Eliot is able to keep the ball in play by swatting it away.
WW: You also state that you'd rather "die than be derivative." So how would you describe your unique style?
DC: I try to be surprising but not gimmicky. I try never to be boring. Otherwise style is intuitive, and though I can describe the styles of others, I'm too close to mine to do so.
WW: You often speak in multiple voices—including those of animals. In "Natural History" we hear a circus elephant's lament:
"How to explain my heroic courtesy? I feel
that my body was inflated by a mischievous boy.
Once I was the size of a falcon, the size of a lion,
once I was not the elephant I find I am.
My pelt sags, and my master scolds me for a botched
trick …"
Why choose the elephant as a vehicle?
DC: One's own "voice" on the page has to be constructed, so even to sound like Dan Chiasson I have to invent tones, values, rhythms, a vocabulary, that feels "other." Why not acknowledge that fact by making my speakers non-human? The elephant is an animal with enormous force, but also courtesy, modesty, a kind of resignation, a major amount of pathos.
WW: Which poems move you?
DC: One would be George Herbert's "Affliction I," the most agonizing poem I know about illness and melancholy, and yet it is suffused with a sweetness and courtesy that only Herbert has. Another would be a longer poem, Wallace Stevens's "An Ordinary Evening in New Haven," a great statement about the imagination and the ways it can and cannot inhabit daily life.
WW: As a parent of preschoolers, which poet or collection would you suggest to introduce youngsters to the genre?
DC: Kids have an attraction to the sounds of words and phrases, sometimes apart from their meanings. We've read everything to our kids—Milton, Shakespeare's sonnets, Wallace Stevens (try the poem "Bantams in Pine Woods"), but also, of course, Dr. Seuss and Winnie-the-Pooh.
WW: Is there a future for poetry other than at symbolic events like January's presidential inauguration?
DC: Well, poetry is the best medium ever devised for representing complex inner lives and complex social arrangements or agreements. Prose can't do it. I do think that as long as people have complex inner lives and complex social arrangements, we'll have poetry.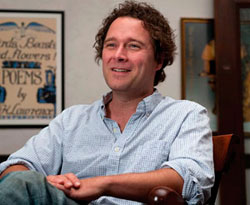 WW: By the way, what did you think of Elizabeth Alexander's poem?
DC: It was wonderful to see her, a very serious poet, not a showboat or celebrity, up there just simply reading a poem. That was my response.
WW: Has the Internet influenced the writing and appreciation of poetry?
DC: Maybe, and I would say, for the better. The Internet affects poetry more or less the way it affects everything else. If I want to read a poem by Chaucer or Dickinson, boom, there it is. I have all of Shakespeare's sonnets on my iPhone. If you want a weird word, say a word from one of the trades or a word from science, well, with one keystroke it's yours. And if the Internet is shortening people's attention spans, all the better for poetry, which tends to be short.
WW: In being chosen a Guggenheim Fellow [for "stellar achievement and exceptional promise"], you have joined such predecessors as Robert Lowell, Linus Pauling, Henry Kissinger, and Derek Walcott. Congratulations! How have you been using it?
DC: Thanks a lot. It's allowed me some time, a small sliver of time, every day to just kind of drift. I may work during that time; I may waste that time. But the time is there, and it's crucial.
WW: What can you tell us about your upcoming third volume of poetry?
DC: It's called Where's The Moon, There's The Moon. I stole the title from our older son. When he was about two, he would run from window to window in his bedroom saying, "Where's the moon?" Then, when he found it, he would exclaim, "There's the moon." But once he had found it he became rather morose and mopey, since that meant the game had ended. So he devised a strategy: He would cover his eyes and say "Where's the moon," then uncover them and say "There's the moon." Besides being pretty cute, this also struck me as profound. The impulse to make art derives from needing—as we all do—to take enchantment into one's own hands. Little dramas of time—hide and seek, tick and tock—these are the foundational artifacts of human life, and poetry is just a development out of them.