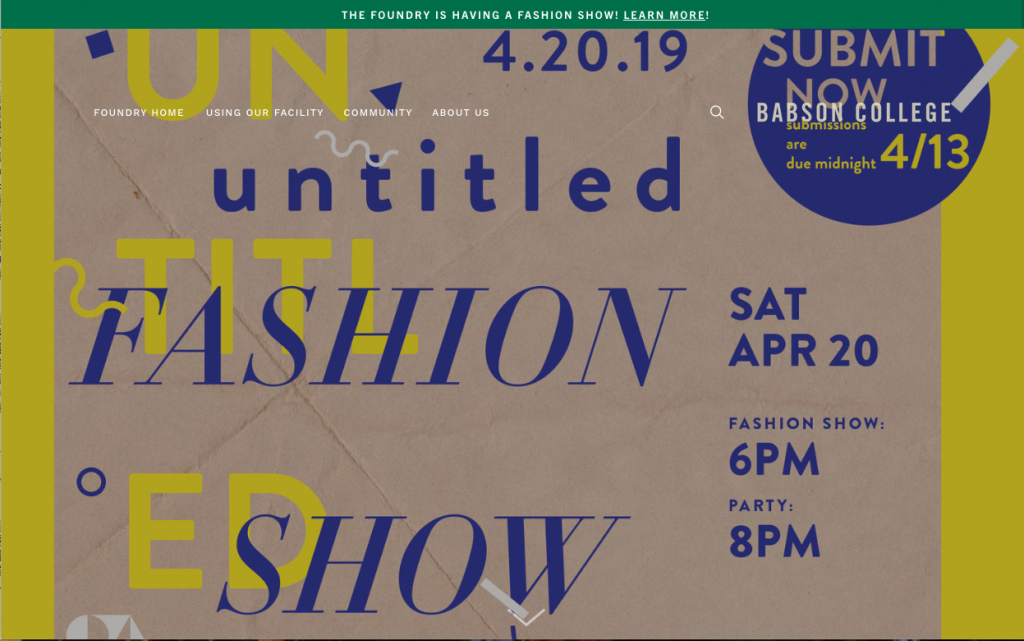 Babson College, Olin College of Engineering and Wellesley College (BOW) Weissman Foundry Fashion Show – "Untitled" – will showcase 36 entrepreneurs showcasing somewhere between 50-60 pieces on April 20th, 6 p.m., on Babson's Wellesley campus. https://www.foundry.babson.edu/untitled
The Weissman Foundry is an open-door design studio, inspiring transdisciplinary innovative collaboration between Babson, Olin, and Wellesley for advancement of new/existing projects.
Masterpieces on "Untitled" runway will range from accessories and wearables to upcycle and fabric patterns. The entrepreneurs can designate their own model and style their model as they like.
New, wearable or upcycled – say, a jacket that was significantly altered through painting, studding and accessorizing – products will be featured. The showcased work will be physically, mentally, and emotionally inoffensive.
"The idea for the "Untitled" fashion show developed last semester when it became clear that many students from all three campuses made the widest range of incredibly creative things for bodies. Our show is a celebration of individual BOW student's creativity as well as the combined creativity, community and collaboration it has taken to build the Foundry over the last year," said Janos Stone, Manager of Innovation + Design (Spaces), The Weissman Foundry.
"This show is the Foundry's coming out party to the world. Up to now, all Foundry events been BOW facing. The Fashion Show announces to all that the Foundry is a unique 4th culture made of the three BOW cultures, that we are trans-disciplinary center for design and prototyping and we have opened our doors to the world. Think: International Space Station meets Switzerland meets the Studio," Stone said.