With the public health crisis related to COVID-19 changing shape very quickly, the Davis Museum will remain closed until further notice. Most students have left Wellesley's campus for the year and the Davis staff is working remotely—with the exception of our committed security personnel. Remaining flexible and responsive, we are tackling the uncertainty and disruption of this unprecedented experience as a community—working together to stay true to the Museum's educational mission.
So: we focus on connection, collections, and community. Knowing that art can provide comfort and inspiration during trying times, we are developing enhanced opportunities to stay connected to the Davis during this period of closure—making our galleries, exhibitions, and collections available through new virtual exhibitions, online student initiatives, and social media posts. Updates and opportunities to connect will be published on our website, social media platforms and via email.
Making a Difference in the World: Portraits of Women at the Davis Museum
Tour online >>>
Featuring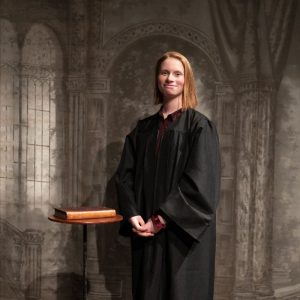 Sarah Stover '20
A major in Biological Sciences and Geosciences, Sarah Stover has worked as a Student Guide at the Davis for all of her four years at Wellesley.  As a guide, she developed tours like "How Art Portrays Emotion," and she led stroller tours and bilingual tours in Mandarin and English.  She also has contributed her talents as a visual artist to the Davis. She gave an artist's demonstration at a Family Day, and as part of a Davis collaboration with the Anthropology Department, she illustrated a children's museum guide for the National Museum of Sudan. We congratulate Sarah for all that she has contributed to the Davis and to the Wellesley community–both locally and internationally!
Coloring Pages and Activities
Explore the Davis through an animal-themed treasure hunt, self-guided activities, and coloring pages inspired by works from the permanent collections. more >>>
We want to see your work! Share with us, and browse other creations by using
#myDavis #DavisAtADistance