Doing Well and Doing Good – A Conversation with Jeff Bradach and Tom Tierney, co-founders of Bridgespan
Lisa Leslie Henderson writer
Brian Smith photographer
Jeff Bradach and Tom Tierney's paths had crossed several times long before their families settled in Wellesley. They both attended college in California and completed graduate studies at Harvard. They both worked for Bain & Company, although Jeff left to get his doctorate and to teach for several years at Harvard Business School while Tom stayed on to become Bain's worldwide managing director. Fourteen years ago they came together once again, and, over several years' worth of breakfast meetings at The Maugus restaurant in Wellesley, they began to form Bridgespan, a nonprofit organization now ten years running, that exists to help other nonprofits and philanthropies build a better world.
At the heart of their vision was the belief that a strong and effective nonprofit sector can be a powerful force for change. Their passion for addressing society's most important challenges, combined with the know-how they gathered from years of consulting, teaching, and leading, prompted them to ask: could we strengthen the ability of nonprofits to better achieve their goals, and ultimately improve society, by applying the best thinking and tools from the for-profit world to the nonprofit sector? A decade later they and their colleagues have demonstrated that the answer is a resounding "yes".
Tierney: My transition looks fine in the rearview but my departure from Bain wasn't personally easy. Forty-six years old and in my prime, I left a rapidly growing top tier firm spanning more than 20 countries, to launch a charity with three other people in cubicles—and serve as an unpaid volunteer. The decision did seem a bit crazy. It wasn't exactly a natural act for someone in my situation.
But I was deeply motivated to transition from "success to significance." I'd spent years serving on nonprofit boards and leading Bain pro bono projects in the sector; I was deeply convinced that we could help social sector organizations improve their impact on society. Like any entrepreneurial venture, there were significant risks, but I had confidence that somehow things would work out. When Jeff and I got together we shared the conviction that by bridging the business and nonprofit worlds we could help create significant social change.
Bradach: We interviewed more than 50 thought leaders across the sector and got a Bain case team to work on a business plan. After a few years of exploration—and many breakfasts at Maugus—a plan emerged that we believed had legs. We decided to create an independent nonprofit that would be entirely separate from, but have a strategic partnership with, Bain. Being a nonprofit was important because we wanted our strategy to be driven by our belief in how to achieve social impact, not simply how to create a successful, profitable consulting firm. A core part of the vision from the beginning has been to share what we learn from the sector with other leaders—for free—to magnify the impact—not the profits—of our work. The incentives would be different if we were a for-profit.
Bradach: The business plan we developed, for what would be called Bridgespan, was for a nonprofit that combined deep knowledge of the nonprofit sector with the best thinking on strategy, leadership, and effectiveness from all sectors. A core part of the work is strategy consulting and executive search, but at the same time, Bridgespan committed to freely sharing insights, tools, and practices far beyond the firm's client base to multiply social sector impact. For example, over a million people visit our Web sites each year and our free case studies are taught in schools across the country.
Tierney: Today we help nonprofits and philanthropy achieve results across three basic building blocks for achieving social impact: scaling NGOs [non-governmental organizations] and their impact, strengthening their leadership, and advancing philanthropic excellence. Nothing like this has ever happened in professional services: we are a combination consulting firm, search firm, leadership development center, and financial services provider; our breadth and reach is really quite astonishing after only ten years. We have been able to contribute to many of the sector's leading success stories by, among other things, pursuing new collaborations across foundations and their grantees. More recently, we have gotten involved with work related to government, as it represents the largest source of funding for social issues.
Tierney: The early to mid-1990s were times of tremendous ferment in the nonprofit sector. A few trends were coming together: a new wave of philanthropists—many created by the Internet boom—who were interested in 'venture philanthropy,' a wave of interest in graduate schools and college campuses that propelled organizations like Teach for America and made the Social Enterprise Initiative at Harvard Business School that business school's largest student club, as well as millions of baby boomers looking for opportunities to make a difference through volunteering and career changes.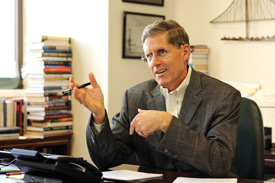 Today, these trends have grown bigger, and there is an unprecedented amount of money going to philanthropy with the potential for even more to come. In 2009 alone there was more than $300 billion in private giving. New players and new approaches including massive "giving while living" and collaborative investment strategies (think of the Warren Buffet/Bill & Melinda Gates alliance) are fueling change.
Bradach: Ten years ago it was unclear whether Bridgespan would succeed. Now it seems obvious, but the underlying reason was just beginning to emerge and now is in full force: the demand for results. You see it in discussions about "social return on investment" and in government "performance-based contracting." Ten years ago, having a business plan was unusual; now it is hard to imagine a serious nonprofit not having one that clarifies what impact it is seeking to have and how it will achieve it. While it is easy to be frustrated by the slow pace of change, it is actually remarkable how dramatic the shift has been to results.
Related to results is the fact that more people now realize that it takes strong organizations to produce results. We recently published a piece called "The Starvation Cycle" which highlights how unwittingly funders often subvert the very results they seek by insisting that no money goes to "overhead." How many of us would want to fly on an airline whose primary measure of success was how little they spent on things like maintenance? While there is a lot of focus on making sure there isn't waste in the sector, we have been more struck by the extraordinary results that are accomplished with such scarce resources.
Tierney: For the past decade, we have worked with the Edna McConnell Clark Foundation providing financing and management consulting to nonprofits striving to expand programs with proven impact. The Clark Foundation raised $120 million to invest in the growth of three organizations with track records of achieving results. The Nurse Family Partnership (NFP), one of their grantees, is a success story. Thirty years of evidence and three randomized controlled trials have proven that NFP's program—which matches low-income, first-time pregnant women with registered nurses who visit their homes until their child's second birthday—can break the cycle of poverty by helping these young mothers acquire the self-confidence and parenting skills to prepare their children to become healthy, productive members of society. If there's one thing we've learned, it's that scale can be achieved—but it does not come cheaply or easily.
Bradach: We have seen a dramatic shift in what seems possible in the area of education. We have—and have had—a true crisis in this country: an education system that fails millions of kids every year, especially Latino and African American children. Charter schools have shown what is possible—that all kinds can learn. While charters serve only a small percentage of kids that need better schools, they are showing the ingredients required to get great teachers in front of the kids that need them. The Obama Administration has brought a focus to this issue that may represent a real opportunity to make progress on this critical issue.
Bradach: The administration has committed billions of dollars to "scale what works" and is calling other funders to the task. Leveraging what private philanthropy has nurtured, government can play a critical role in enabling organizations to achieve their full potential impact.
We see this approach playing out with the Social Innovation Fund, which is a $50 million program that aims to invest in social programs that have evidence of impact and are seeking to grow. You see it in the Invest in Innovation Fund, a $650 million program that is investing in education-related innovations, and the Race to the Top Fund, which aims to help states turn around schools. While these efforts have echoes of past "reinventing government" initiatives, it appears that the emphasis on results—real evidence of impact—and on building stronger organizations is playing a more central role than in the past. These initiatives represent a fundamental shift in the relationship between government and philanthropy.
Tierney: Bain incubated Bridgespan with contributions ranging from office space to senior leadership, technology support, access to training, and financial investment. But that is just a cursory inventory of a rich infusion of Bain DNA that has fueled Bridgespan's growth.
Throughout these years, Bain has provided Bridgespan invaluable access to intellectual capital as well as allowing many of its best and brightest to join the firm as externs, permanent staff, and members of our board. In fact all of our founding office heads have been Bain alumni, who today count 22 of Bridgespan's 170 permanent employees, and more than 100 Bain staff have rotated through as externs, representing every US office as well as several others across the Bain global network.
Bradach: The bottom line is that we would not be where we are without Bain. Along with the people, the ideas, the shared infrastructure, and financial support, perhaps the most important element of the Bain DNA that has shaped Bridgespan is a singular focus on results. Like Bain, we measure our success on whether the organizations we serve are better able to achieve their important objectives. That is the scorecard.
Bradach: To have enabled philanthropists and nonprofit leaders to have made a major dent in the most challenging opportunities and challenges facing this country—closing the achievement gap for kids attending weak schools, addressing climate change, and breaking the cycle of intergenerational poverty. These are tremendously difficult challenges. But there are people and programs making a real difference, and if we can help them succeed in extending the impact of their work, that will be a powerful legacy. Not only will those organizations have impact, but they will stand as models for others. That is why we built Bridgespan.
Tierney: Strengthening nonprofit leadership and philanthropy are critical leverage points for the performance of the overall sector and we'd like to count that part of our legacy and are investing thought and energy to that end.
In philanthropy, not only have we been privileged to work with funders of some of the most successful nonprofits, but also we have grown to create partnerships, provide strategic advice on giving, and influence many more top-tier foundations. More recently, we have selectively expanded our strategic work to include individuals who are seeking to maximize their personal philanthropic impact, especially through making "big philanthropic bets."
In the area of leadership, we published a study in 2006 that estimated a nonprofit leadership deficit of up to 640,000 senior executives by the year 2016, due to a confluence of social sector retirements and sector expansion. In response, we grew our own talent matching services and efforts to "bridge" private sector talent to the nonprofit sector, and last year nearly a quarter of senior openings at nonprofits were filled by private sector talent.
Bradach: I always have been interested in social issues, and have pursued paths that blended business and nonprofits. An underlying driver for me is the simple observation that much of life is determined by virtue of where you are born not what your capabilities are.
Tierney: Years ago I wrote the phrase "build a life, not a résumé." Building a life—a fulfilling and rewarding life—requires pursuing one's passions and thinking beyond yourself. Life is not about what you have, it's about who you are; and who you are is defined by your actions, not your words. I'm just trying to do my best to live a meaningful and useful life. I feel very
fortunate.