Beth Hinchliffe writer
Larry Buckley photographer
On September 11, 2001, an already closely-knit neighborhood came together in horror and love when one of its own, 40-year-old Patrick Quigley, lost his life on United Flight 175. Families held his pregnant widow Patti, and young daughter Rachel, in a tight, protective embrace, and one month later dozens of unofficial godmothers and godfathers welcomed baby Leah.
The Poets' Corner has always been that kind of place, where neighbors become a kind of extended family. An interconnected rabbit warren of small streets and cul-de-sacs stretching from Longfellow to Damien Roads and sandwiched between Walnut Street and Route 9, it's an area that longtime resident Amita Bhatt calls "Norman Rockwell land."
"It's like one of those old neighborhoods from the '50s where everyone leaves their front doors open and children run in and out," she says. "The homes are small and traditional and frankly we'd like more space, but we won't move because the neighbors keep us here. They're family, and make this a wonderful place to live."
And that was exactly the atmosphere its developer had in mind. In a 1926 ad (headlined "People Who Live in Wellesley are Healthy and Happy"), families were encouraged to move to the just-opening "Longfellow Estates," which "through taste and good judgment in planning is growing into a community of homes that is typical of what is desired by an American family of moderate means."
There had been only a handful of houses scattered throughout the heavily-wooded area originally called Parker Hill (after owner Benjamin Parker). Just before the Depression hit, Edward Harrington laid out the area, consisting mostly of 10 to 15,000 square-foot lots, routing one road around a 67-year-old tree in his attempt to preserve the natural beauty. Perhaps influenced by Poets' Corner at Westminster Abbey, he named his streets after writers, beginning by re-christening "Florence Avenue" into "Longfellow Road." Then came Emerson, Kipling, Shelley, Tennyson, Thackeray, and Whittier.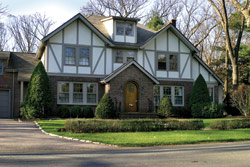 And three of the streets' namesakes had Wellesley connections. Longfellow's poem "Gospel Oak" commemorated the tree under which John Eliot preached in the 1630s when he came here to convert the Indians living around Lake Waban. Later, a young man named Ralph Waldo Emerson walked through town, commenting in his journal, "I am in the midst of a beautiful country, and I … watered such sprigs of poetry as I feared had wilted from my memory." And in the 1860s, John Greenleaf Whittier stayed in West Needham, as Wellesley was then known, at the home of friends John and Mary Sawyer, two founding members of Brook Farm, an experiment in cooperative living.
Along the dirt roads of the late 1920s, lots were quickly snapped up and homes constructed. Unlike the growing Cliff Estates, which had bigger-zoned lots and more ambitiously sized homes, this area was always intended to be home to a stimulating and diverse mix. In the 1930s and '40s, there were shopkeepers, wool merchants, teachers, nurses, artists, small business owners, the general manager of Filene's, the owner of the meat market, a blacksmith, and a fire chief.
Since his birth 75 years ago, John Schuler has lived in the same cozy colonial on Emerson Road, and through a unique combination of longevity and exuberant love of his hometown, has become the neighborhood's unofficial mayor. As a child, he thrived on the variety of residents. "I think that rich diversity is something that, sadly, the town has lost," he says. "Living next door to a policeman or a construction crew foreman teaches young people about honesty and integrity—things you don't learn from books."
The first generation of residents to grow up here were surrounded by a natural world ready to be explored. Children could walk along the dirt roads to skate at Rosemary Brook in the winter, or fish in the summer (with a fishing line made up of a safety pin attached to a string). They hopped a trolley on Route 9 to visit a friend further away; or sneaked off on a spring evening to watch gypsies passing through, gathered around a campfire. In the summer, the sighting of scarlet tanagers, Baltimore orioles, or indigo buntings were common, as were snakes and frogs in the undergrowth. Children could watch workers cut ice on Longfellow Pond; and ride bareback the horses Dwight Jacobs kept on his farm.
When they grew older, the Lower Falls commercial area just up River Street along the Charles River beckoned. Avoiding "the toughs" around the enormous Sullivan's Mill, they made their way to the Manning sisters' restaurant for treats, earned a dime for chipping the cement off 100 bricks at the Marshall Spring Wrecking Company, and formed their own neighborhood team (called "Bingville" ) to challenge others in town (especially the Wellesley Tigers, from Weston Road) to "bloodletting" football games.
"The fascination of this area was the vibrant ring of activity around it," Schuler recalls. "All these things involved noise and activity and excitement and discovery—the greatest gifts for a growing kid. It was an enclave of every kind of life, from natural to commercial. There was a certain magic back then. A wondrous place for a kid to grow up."
A variety of activities brought neighbors together back in the early days. Before the roads were paved (after World War II), each spring the town dumped bags of rock cover every few yards, and the men in the neighborhood opened the bags and raked the contents to keep the dust down. Every 4th of July all the residents would get together and set off their own fireworks, starting with snakes and parachutes and day bombs in the morning, and ending with sky rockets and roman candles at night (waiting, all the while, for the wail of fire engines when grass was accidentally set afire).
Then in the fall, everyone raked leaves into communal piles in the street and burned them in festive bonfires. "Spider Web Parties" were devised, where organizers would string dozens of spools of colored thread throughout a house, climbing up on stepladders and running down into the basement, around corners, and through the network of pipes. Participants were then given one string each, and the first to untangle the web (after much rolling over each other on the floor and falling about in laughter) was the winner. And this for a party of adults!
Warren School, once the neighborhood's center, was designed by local architect Benjamin Proctor Jr., and opened in 1935 to accommodate the groundswell of children in the next-door development. It was named to honor former principal and teacher Annie Warren, whose house was nearby at 128 Walnut Street. Closed as a school in 1986, Warren lives on as the town's recreation center, renovated at a cost of $7 million and re-opened in March of 2004 (check out classes and activities at www.wellesleyma.gov/recreation). The school's original dedication plaque hangs inside, and the 70-year-old chalkboards have been preserved in each classroom.
"We absolutely love it here," says Recreation Director Jan Kaseta, proud to be continuing the history of this local landmark. "This is a very family-oriented neighborhood, as evidenced by the effort to build the playground in front. It's so much fun to look out the window and see them playing. We're very lucky to have the support of the town to have kept this beautiful, significant building active and thriving."
Nearly 30 years after Warren was dedicated, Schofield School opened on the site of an old dairy farm, and after Warren closed, it became the sole educational home to 353 children from K-5. It's an easy, car-free walk from the neighborhood just down Hunting Hill, a morning and afternoon social ritual that the mothers enjoy.
"As a neighborhood school, Schofield is very important to its surrounding families," says principal David Wilkins, who emphasizes service projects and partnerships with parents. "In many ways it's a focal point of the community."
Although the most visible school activities are ones like the annual Schofield 5K Road Race and the Book Fair, Wilkins would rather talk about the times when students and parents have come together to help others, such as the Thanksgiving food drives and outreach efforts to homeless shelters.
"I'm very proud of how our families have worked together responding to local needs," he says. "It's not as simple as just writing a check. Kids talk about the issues with their parents, they donate their allowances, do chores to raise money. That's really special—and a very strong component of our school."
Another landmark which remains in vastly-altered use is the former Walnut Street Fire Station, built in 1903 to be near the woolen mills on the Charles River. A cozy two-bay brick building, it has charming touches of Italianate and craftsman architecture, but most importantly, it was a true heart of the neighborhood until it closed in 1987.
"As a kid growing up there, we used to stop in all the time on our way home from school," recalls Jim Dennehy, now a captain with the Wellesley Fire Department, whose uncle Rab Gentes was stationed there for years. "If your bike ever needed to be fixed or you had a flat tire or any other problem, they'd take care of you. It was a real neighborhood presence, a typical old-fashioned firehouse."
Children knew that the quarter-to-six whistle meant it was time to go home for dinner; and on snowy mornings they listened eagerly for its distinctive three blasts that meant no school. Now under renovation, the building will soon house condominiums (including one covered under affordable housing).
Now the landmarks are altered, the woods are all but gone, and the streets are long since paved, but to hear residents talk, that same magic of neighborliness remains the area's richest treasure.
"It's still a wonderful place for kids," says Joellen Toussaint, who lives in her grandfathers' 1938 home, and whose own grandchildren are the fifth generation of her family to enjoy playing there. "The layout makes it so safe for children to be outside. It's a great place to bring them up."
"The ornament of a house is the friends who frequent it," wrote Emerson, who could have been talking about the extraordinary interconnectedness of the neighbors. The Poets' Corner Progressive Dinner is an annual event known for attracting more than 200 residents the first Saturday in February. Diners move among five dozen homes for four different dinner courses.
"It truly is fun, a lovely celebration of the neighborhood," says Jean Berry, who has lived here for 35 years. "It's great to see old friends and meet new ones, and enjoy the variety of ages, occupations, and interests. We really have a nice mix here."
Another event that attracts more than 200 (plus children) is the annual day-long Greek Easter extravaganza, where cooking starts three days in advance. The event officially begins at 6:00 a.m., when children gather to make traditional Greek donuts. The men set up an enormous tent over a spit where a whole lamb and rows of chickens will roast over a fire. The women deep-fry calamari specially flown in from Greece, and for the next 12 hours "we eat, drink, and make merry together," says Bhatt, who also describes the abundant trays of baklava that are passed around and devoured.
"But it's not just the big events that make this place so special," she says. "We know each other. We ride bikes together. Best friends set up lemonade stands together. When my son was eight he and his buddies formed their own book club. People with pools open them up to any one, any time. We pull for each other. We're so lucky to have found this treasure."
Eighty years later, the Poets' Corner seems to have fulfilled the vision of its developer and the inspiration of Ralph Waldo Emerson, who wrote: "Nor knowest thou what argument/Thy life to thy neighbor's creed has lent./All are needed by each one; Nothing is fair or good alone."