Much like a class in school, the act of bullying runs its course. The initial taunts and teases might serve as an introduction, just a taste of what could potentially come throughout the school year. Then there's the long, involved daily grind of lessons. Didn't know you were a nerd, did you? Didn't think you were fat, did you? Well, the bully is there to teach you these things. There might even be a little "homework" via Facebook or MySpace. At the end of the course is the final exam—one single incident that pushes the student into a make-or-break situation. Will they pass or give up?
In some cases, this "final test" of bullying pushes the victim to fail. A sad reality of today's bullying is that it's an aggressive phenomenon that goes beyond shoving others down the hall and passing notes about someone in class replete with funny drawings.
Recent studies have shown that over 30 percent of kids are bullied at one time or another. The past few years, things seem to have become worse, with several students in the news turning to suicide or extreme violence as a result of horrendous behavior towards them by fellow classmates.
Aware of the possibly fatal intensity in bullying, Andrea Harding, a long-time Wellesley resident and mother of two, decided to make an anti-bullying campaign a top priority, so she became a co-creator of anti bull-e gear, a clothing line with an anti-bullying message. "I got tired of children committing suicide at the hands of other children. There's something totally unbalanced in the world about that," says Harding. Together with her husband, NewsCenter 5 co-anchor Ed Harding, her sister Ilene Terrell, and Terrell's partner Sheri Backerain, Harding created a line of clothing that spreads the anti-bullying message through clever slogans and a loveable Bull Terrier logo. "When Phoebe Prince took her own life, I decided it was time to help children find a voice. Most states have anti-bullying laws. If that doesn't speak volumes to us as parents, I don't know what does." Massachusetts has several laws that address bullying, hazing, and even cyber-bullying.
"The outrage existed even before my wife and I started this process," says Ed Harding. "The Phoebe Prince story just broke your heart. Every time I reported that story, I remember vividly just wanting to cry. Today, there are no lines. We live in a 24/7, 365 world. There are no stop signs. At least when I was little, [bullying] ended when you physically left the building. You were quiet for the evening. Today, you can be at home, talking online to anyone, anywhere in the world."
With memories of the strong hand of bullying reaching into her own home years ago and victimizing her son Adam, now 24, Harding was frustrated with the lack of support for kids and parents.
"When I went online to understand it, everything I read was either combating it with more aggression or it was so dry," she remembers. "These kids are raised in a world of sound bites. I didn't feel there was anything out there that was in 'kid speak'."
The Terrell/Backerain household in Fredericksburg, Virginia had also seen its share of bullying, with both of their young sons going through some form of it as early as kindergarten. The women were happy to add anti bull-e gear into already packed schedules (Terrell is a podiatrist; Backerain is a veterinarian). They threw themselves whole-heartedly into assisting the Hardings in this new grassroots effort.
"The goal of our company is to create something that people will be willing to wear, especially the kids, that would fit their lifestyle and would constantly be a reminder," says Terrell. "Children are born with a clean slate. [Bullying isn't] a genetic behavior. These are learned and imitated behaviors, so I'm convinced that some of what we see is from home and some is peer-related. We have to attack it on both fronts—parents and kids."
"Since we started, we've become way more involved in the message," she continues, excited about the future of this collaboration. "It's almost like it's grown and snowballed."
Homer Brings it Home
"People don't like to talk about bullying, so I wanted to find some way to put all this genesis into a character that would allow the conversation to open up," says Harding.
Nothing drives a point home quicker than irony—something that Harding realized in the initial stages of anti bull-e gear.
The idea was right in front her eyes; or rather, lying across her feet. As a Bull Terrier rescuer for over 20 years, Harding found inspiration right in her own home, where she had been involved with a "bully" named Homer for some time.
"The irony is that those among us who own Bull Terriers call them 'bullies.' So I thought: That's it! It's living with me." With that realization came the face of Homer, Ed and Andrea's eight-year-old Bull Terrier. "Most Bull Terriers are between 55 to 60 pounds, and he's almost 80. He's a brute with a vicious bark, yet he has the gentlest heart and just wants to be loved." Quite the opposite of what you would expect of a "bully."
Coming to the Hardings' home from a rescue center at the age of two, Homer had never been inside a house with a family. "He needed to learn social skills, so he really did embody all the elements of the issue," she explains. They took an image of Homer's handsome face to a graphic artist, and the anti bull-e gear logo was born.
Wearing the Message
"When you look at fashion, it captures the essence and dynamics of our culture. We're using our fashion to make the statement that our culture needs to change. We need to return to civility," says Harding. "I wanted to create an idea to keep bullying in the limelight until we, as a community, successfully put an end to it."
Much as we hope bullying has a grim future, it seems anti bull-e has a great one in the works. Lounge pants, hoodies, shorts, and sweatshirts are being added to the collection, as well as new messages targeting different groups. There are two T-shirt designs currently in the line; a crosswords puzzle using words like "acceptance" and "tolerance" as solutions to "fat" and "tramp," and the hallmark T-shirt of "Put Bull-e-ing Behind Us" with Homer's face. A cyber-bullying shirt with the tagline "Date Machine Not Hate Machine" for a computer isn't far behind, as well as shirts in Spanish and one with a rainbow design.
"Our mission is to help children and parents find a way to communicate in unison that bullying is not acceptable," says Harding. "By wearing anti bull-e gear, you're adding your voice to the message on a daily basis."
Helping the Community
According to Harding, there are two key elements to making bullying a thing of the past. The first is that parents and teachers must be actively involved.  Second is educating everyone in the importance of respecting and tolerating each other. It's to this end that anti bull-e gear is giving back five percent of all proceeds to Olweus Bullying Prevention Program, the world's foremost program fighting this issue.
According to Dan Olweus, the program's creator, known as a pioneer in bullying research, a person is bullied "when he or she is exposed, repeatedly and over time, to negative actions on the part of one or more other persons, and he or she has difficulty defending himself or herself." Olweus goes into schools to train teachers, talk to kids, and teach both sets of people the language of bullying.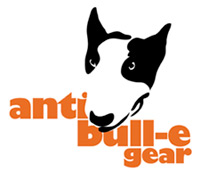 "It's wonderful how they reach out to everyone in the school community and talk about what is and what isn't bullying," says Backerain, who was originally impressed by Olweus' research-backed success. "They make the community aware and involved. They teach kids to stop and see the consequences of what they do—whether it's what comes out of their mouths or driving a car and texting."
The Future of anti bull-e
"It's a very slow and steady build. But people like the designs and they love what we're doing," says Harding. Anti bull-e was the only apparel line exhibiting at the 7th Annual International Bullying Prevention Association conference this past November in Seattle. "People are encouraging us to keep going."
Regardless of what others say, sometimes it's best to just go with your own heart , and Harding, Terrell, and Backerain are doing just that.
"I don't want to sit on the sidelines anymore," admits Backerain. "I love my boys with all my heart and soul. I want to make a difference in the world they're going to live in when they're young men."
"When the media hype turns its attention to some new issue and the bullying unfortunately fades into the background, that makes what we're trying to accomplish so much more important," says Harding. "This message will always stay front and center with us."