Face to Face: An Interview with Steve Belkin – Giving Back
Lisa Leslie Henderson writer
Brian Smith photographer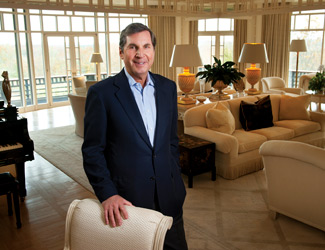 "His heart is in the right place." That's what we have heard over and over again from Wellesley and Weston residents about their neighbor, Steve Belkin. Deeply committed to philanthropy, the talent and generosity of Steve and his wife Joan touch many people and organizations. Temple Beth Elohim, Boston Medical Center, Human Relations Services, Cornell University, and Harvard Business School are on the beneficiary list as well as every family that has spent time at the Belkin Family Lookout Farm in Natick. Not surprisingly, Steve and Joan were recently honored as the recipient of the Robert F. Kennedy Children's Action Corps' "Embracing the Legacy" Award, which recognizes those people who are making lasting contributions to society by improving the lives of children and their families.
Within the business community, Steve is a well-respected entrepreneur. He started his first company—TNT Vacations—after graduating from Cornell University and Harvard Business School. The brainchild behind affinity travel groups and credit cards, Steve has since founded 29 other companies, some of which he has sold and others that he continues to grow as chairman and founder of Trans National Group.
An avid sports fan and competitor, Steve was Captain of the tennis team at Cornell and played on the Varsity Squash team for three years. Today he serves on the board of trustees for the Sports Museum of New England and is the largest individual owner of the Atlanta Hawks (NBA) and the Atlanta Thrashers (NHL).
Steve and Joan live in Weston where they raised their two daughters, Julie and Amy.
Belkin: Joan and I both come from modest, middle income families and have been very fortunate early in our lives. Giving back to the community—especially the local community— is very important to us. We don't have a profound mission for our philanthropic activities. Our giving is relationship-oriented; we usually get involved because we know people engaged with a charitable organization.
Belkin: We try to do our part to make this a better community. One of my personal philosophies is that there are five areas in your life that you have to give time to in order to be successful. You can choose to give time to these areas in a positive, proactive way or not. If you choose not to, however, you are only delaying your involvement. Eventually you will end up focusing on them, but then it's likely to be in a negative and reactive way. One of these areas is the community. If we are not doing our part to build a better community, the community suffers. The result may be crime or, taken to an extreme, revolution. We also have found that we get so much back from giving. It makes us better, happier people.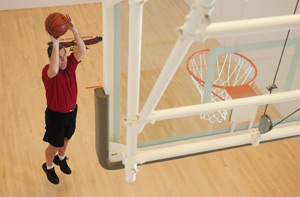 WWM: What are the other four essential areas?
Belkin: You have to take care of yourself. If you don't protect your health by eating well, exercising, and relaxing, eventually you're going to be sick, and you'll end up investing negative, reactive time to get better. Similarly, you have to invest time in your significant relationship, your children, and your work. Most of us spend too much time focusing on work. For Joan and me, success is not related to how much money or how many toys we have; it's in finding the balance among these five areas.
Belkin: Ideally simultaneously, but this is not always possible. But you have to have the vision and the commitment to all five all the time.
When I was starting my business, I was probably working more than I was giving back to my community, but I always kept my relationship with my wife as well as with my children a top priority. I used to tell people at work, that if we couldn't do our jobs within the confines of the workweek, we shouldn't be doing them. In business and in life there are always challenges and you have to be rested and creative in order to come up with solutions. Being relaxed and having stability in your family life allows you to make better decisions—in every area of your life.
Belkin: Every corporation has to have a good purpose. The goal of just making money is not where happiness is found, and is not a meaningful purpose in and of itself.
Before you go there, however, you have to be a good employer. After all, a corporation is only as good as its people. If you don't see your employees as people and if you don't help them grow as individuals, your company isn't going to thrive. That having been said, if you are taking care of your people, if they are living a balanced life, then these other pursuits—being a green company or giving back to society in other ways — will only motivate them more.
Belkin: This absolutely reflects my experience. Eight years ago my daughter Amy wanted to go apple picking so we went to Lookout Farm. Our time there was joyous and fun. Our family, like so many others, is always looking for outdoor activities that we can do together that are safe, healthy, and enjoyable.
At the time, the farm was losing money. It became a fun business challenge for me to think of how, if we purchased the farm, we could turn the economics around. We began to think of ways we could enhance the experience for families, going beyond apple picking or peach picking, which holds kids' interest for about a half hour, once a year. We began to view this community asset more broadly—as a fun family destination. That's why we have invested in a children's playground area, in the petting zoo, in providing live music and other fun activities. Now families spend hours at the farm—together. And we are close to breaking even.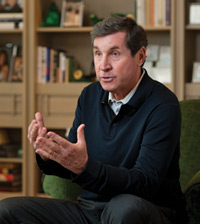 WWM: What are some of the other secrets to your entrepreneurial success?
Belkin: Seeing things slightly different than others. A lot of our businesses take a product that already exists and change it in some way to better meet people's needs. When I started my first business, TNT Vacations, people could only travel on vacations at a discount if they traveled in a group. We came up with the idea of creating trips so that groups of doctors or teachers could travel together. They wouldn't necessarily know each other, but they would immediately have something in common. This worked well as did offering affinity credit cards—cards that reflect the causes or organizations with which people identify personally.
Understanding people's underlying needs is also critical. You have to stay close to your customer. The lifecycle of businesses is getting shorter and shorter every day; you can't afford to be out of touch. I try to stay down to earth. I want to remain in touch with my middle class values and needs. I also try to give permission to all of our employees to share their ideas because they are the ones closest to the customer. The people with the best ideas in an organization are not always at the top.
In addition, all of my businesses have been geared toward providing a really good product or service. When we do that, we are profitable. I have never done anything just to make a profit. People who are driven only to make money have the wrong framework; they are going to make wrong decisions that just maximize short-term profits.
Belkin: To be innovative, you need to have a balanced and peaceful life so that when challenges come up, you can handle them. If you are tense, you just can't think creatively. You think defensively. So I try to create a fun, relaxed, and balanced atmosphere.
I also encourage people to be innovative. Just because we have done things in a particular way in the past is not a good enough reason to keep doing so. We have to constantly be willing to change. Our employees know that we listen to their ideas. They generate great ideas—they want to make a difference and have an impact on our businesses. People stay at companies because they are able to contribute and they are appreciated, not just for the paycheck.
We also expect that our employees will make some mistakes because if they are not making mistakes, then they are not pushing the edges. We just hope that any mistake that they make will be a learning experience for them and for the company. That's how we all get smarter.
Belkin: To be an entrepreneur, you have to be a positive thinker. An entrepreneur has to be able to see the many things that can go wrong in new businesses as challenges not problems. They also have to be creative. Some people are so black and white and logical that they can't think open-mindedly. It may well be that people can develop these qualities, but if they have them from the onset, it's easier.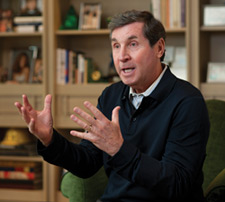 WWM: How important have mentors been to you?
Belkin: I really have not had significant mentors outside of my parents. My father was a very positive and creative person. My mom was a real worrier. I am actually blessed to have the best of my mom and dad's qualities because being an entrepreneur doesn't mean you take huge risks; it means you take smart risks. It's not that I don't see any of the possible obstacles. I think things through carefully and consider the downside. But I see the world through eyes that are 60 percent positive and 40 percent cautious.
Another thing that I learned from my parents was that money doesn't always solve problems. My mom and dad used to fight constantly and it was usually about money. I was naïve to think that if I could just make a lot of money and relieve some of their financial stress, that they would stop fighting and be happy. This was quite a powerful motivator for me. Unfortunately, when I was able to relieve their financial stress, the fighting didn't stop. It was an important lesson for me.
Belkin: Determination, open-mindedness, being willing to learn, and owning your part in things.
We are all going to have our difficulties in life. Life and starting a business are a lot like sailing into the wind. You can't sail straight into the wind; you have to keep your eye on the goal, while changing direction by tacking and readjusting along your way. You must keep moving forward, even when you run into obstacles, trusting that you will get there—eventually. Life doesn't happen in a straight line. It is also important to own your part in things. It's not always your fault, but being able to see what you are bringing to the party, what you may have contributed to a difficult situation, is key. Guard against a victim stance even when painful things happen. Be determined even when you are faced with obstacles.
Belkin: A lot of people ask me that. If my story could benefit others, perhaps I would share it. I am working to be less ego-driven, less focused on myself; I want my heart to be more the reason why I do things. Maybe at some point my energy will shift and I will want to be more reflective, but today I love living life and continuing to learn.