Waking Up to Your Dream House
Remember as a child playfully transforming the living room from gathering place to mansion? Not too long ago, a home could be built with an armload of sheets, some ladder-back chairs, and an afternoon's worth of imagination. Sure, you couldn't stand up inside. But you had your own space, made to specification. Maybe you're ready to re-visit that magical place of dream-house building. You'll need more than a stack of books to hold it together, but an abundance of imagination can't hurt to make your dream come true.
Decisions, Decisions, Decisions
While there are many gorgeous spec homes from which to choose, a custom home is truly yours from start to finish. "Building a house is like childbirth," says Marc Kaplan, president of Sanford Custom Builders. "You spend a year or so planning, which is like trying to get pregnant. Then you're building. That's the pregnancy. Then you've created a home, which is like your baby."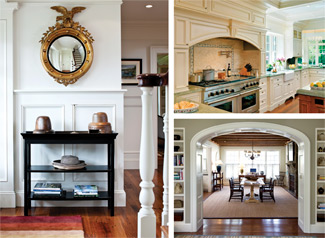 If there is one thing the potential custom home owner can anticipate, it's myriad decisions. You will choose every eave, gable, and shingle along the way. That's why it's so important to become familiar with the territory before dipping into the process of custom building. A builder will measure twice and cut once. A homeowner should investigate twice, decide once.
Newton architect Peter Sachs advises matching the budget and your expectations early on. But a budget doesn't just mean dollars. Set aside plenty of time and learn how to think like an architect or builder, conceptualizing both size and finished product. "Be patient and take your time. If you want to do something really poorly, do it fast," he says.
Book of Dreams
Ray Wiese, founder of The Wiese Company, says customers usually know exactly what they want, what they need, and have a strong desire to make a home. Wellesley architect Jan Gleysteen says clients "really want to get what they really want."
But what if you don't know what you want? Gleysteen and Wiese recommend starting with a binder and a stack of home and architecture magazines. Comb the pages for elements that give you pause. Even if you feel that the Wright-inspired Prairie Style stained glass windows won't fit into the scheme of your dream colonial, clip the picture anyway. Eventually, you'll be able to sort the images into rooms and elements: porch, staircase, mudroom, backyard, bedroom, bathroom, library, garage, family room, kitchen, and so on. Give each section a tabbed divider. As items trigger that little interior sigh of creative bliss, clip and file. Don't forget to include textures and colors. This will become your design manual. The architect and builder that you choose will be able to distill your vision from the pages of this book.
The Process
Doug Hanna of S + H Construction outlines the three initial phases of a building project, beginning with schematic design — when the architect brings two or three ideas to the client to discuss and evaluate. The Design/Develop phase is the "meat and potatoes" of the project when the architect and builder flesh out the specific details. The final planning phase is the preparation of construction documents. Hanna recommends doing your homework up front with the schematic design phase so you can be sure that your expectations match your budget before you spend too much money finalizing plans.
Unless you're an architect or a builder, it can be hard to imagine what the culmination of clipping and planning will look like. Fortunately for the consumer, computers make it easier to know what you are going to get before you get it. A traditional blueprint can look like little more than a set of lines to an untrained eye. Dan Paquette from Woodmeister Master Builders says that many architects are moving toward three- dimensional building schematics to better educate their clients.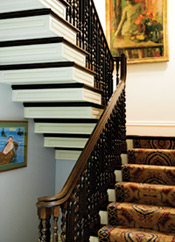 Custom homes can be either traditionally "stick built," as Russell Busa, founder of Sterling Homes Development Corporation, likes to call homes built on site, or modular. Intrinsic to both is the sheer magnitude of details. In the best homes, the owners roll up their sleeves and become fully engaged. They know they are getting what they want and they can assure themselves of the quality.
As for the style, colonials are classic, familiar, and can be customized further by adding garage, mudroom, or library wings to the main box. The more adventurous spirit might consider the less boxy shingle-style home. The traditionalist might choose the Victorian with custom twists like a walk-in refrigerator or an indoor sports court or pool.
Drafting the Players
"I wouldn't shop for land first unless it fell on me," says Tom Mitchell of Mitchell Construction who recommends choosing your architect and builder before even entering the real estate market. "I'm a firm believer in good planning and good planning begins from day one," he says.
If building a house is like birthing a child, then your relationship with the architect and builder is like a marriage; communication is key. "You have to make choices together and work together," says Gleysteen. "Interview two or three architects and see where the chemistry is. See if the architect's style and approach are right for you. Make sure your architect is experienced enough to do a home, to deal with a home, to negotiate with the town and the local planning boards and move through the process."
Architect Patrick Ahearn recommends choosing an architect based not just on his or her portfolio and references but on the compatibility and personality of the individual. "An architect should be a good listener and really try to understand the goals and objectives of the client and not just develop designs that the architect believes to be correct," he says.
Ahearn adds that once an architect is selected, it makes sense to choose a builder with whom the architect has a long-term working relationship in order to avoid a steep "learning curve" thus ensuring that the project will move along smoothly and cost-effectively. Kaplan says that "many people spend more time with their house building team than with anyone else. So pick the right one." Consider the fact that upwards of two years will be spent with your team if not daily, than at least once each week.
Peter Fallon of Fallon Custom Homes and Renovation says to check references. Visit past projects that your potential contractor has completed. Try to get a feel for the longevity of the business and the savvy of the business owner. "Long after people forget about the negotiations in bidding, they have to live with the house," says Fallon. If something needs fixing, it's good to know the original team is still around.
These days architects and builders often team up early on in the process in order to keep the design program and the budget on the same page. From a team standpoint, the project becomes holistic in scope with every player sharing the planning, development, and implementation. "Gone are the days when the client and the architect hid in the corner making the blueprints," says Paquette.
Many individuals building homes today are interested in renewable energy. Hanna mentions that by selecting an architect and builder with green building knowledge, there are many recommendations they can make now when costs are fixed so you can create your own energy in the future.
Hanna adds that once you choose a team, place your trust in them. Try not to second-guess the decisions they make on your behalf once the project is well underway.
Location, Location, Location
Before building, ask a potential builder to come walk the plot of land you are considering. Many builders will see this favor as an act of due diligence, allowing for a potential business relationship to evolve. And you will gain some insight. "It's knowing what issues you're going to be dealing with that is important," says Kaplan. "Most lots aren't perfect. The key is knowing the imperfections ahead of time. It goes back to consumer education."
What to look for? Wiese explains that the old Yankee rule of southern exposure comes from our colonial predecessors who built their saltboxes so that the long, pitched roof section could soak up maximum amounts of winter sunlight. Current thinking, says Wiese, endorses lots with versatile exposure. The architect and builder can track the sun's travels around large trees, hills, and other houses, then incorporate the sunrise through the windows of the breakfast nook or afternoon sun in the library. "You want to feel good in a space," says Wiese. "If that means an east-facing entrance for the feng shui practitioner, then that's even better than the classic southern exposure."
Ken Barber of Barbers Fine Home Builders says that his company offers services to help potential homebuilders find land. Real estate brokers often work with builders to alert them about land that will be coming on the market in the future. He adds that many of his clients contact him before they have acquired land in order to first determine the approximate cost of the home to be built and then come up with a realistic dollar amount that can be spent on the land purchase.
Wiese does warn to avoid challenging lots with extreme slopes or drops. Match your dream house to the neighborhood. You don't want to be too much bigger or smaller than nearby houses. Still, "there's very little land left in this area. You make the best with what you've got," he says.
How to Avoid Pitfalls
The top four tips from the experts? First of all, know where your safety net is – or is not. Fallon says that not knowing your contractor's insurance coverage is a common and unnecessary risk people often shoulder without even knowing it. If your contractor is uninsured or underinsured, there's a potential for trouble because you could be liable for any injury that occurs on site during the project. Be sure to ask about coverage before signing a contract.
Second, know the zoning laws. Try to understand the basics of land permitting so you don't receive any unwanted surprises. If your heart is set on a backyard tennis court, you don't want to find out too late that your land isn't zoned for one. Although your architect and builder should be able to navigate the legalese, knowledge is power. Know your laws.
Third, Wiese says that square-foot costing is more myth than fact. Nothing is written in stone in the custom house. Costs change depending on materials, labor, and the intricacy of the design. Back in the Victorian era, ten percent of cost was labor. Today, labor encompasses roughly 55 percent of a building project due to a combination of the industrial revolution, a stronger middle class, and both OSHA and insurance burdens on the builder. Gleysteen warns not to pick the lowest bid when it comes to builders. The reason? Sometimes inexperienced or even shady builders undercut bidding in an effort to "seal the deal." Later, when the building begins, the price can skyrocket. Look for the right combination of cost and quality. Carefully watch the budget. Price everything out and get it in writing ahead of time.
Ken Barber adds that it is important to be sure that the allowances your builder gives you for materials such as tile, flooring, and cabinetry reflect your expectations. Barber says, "Be as specific as possible on your allowances to make sure you can achieve your goals in budget. The bottom line is that you want to be able to build your dream house in the contract price. If a price seems too good to be true, it probably will not meet your expectations."
Finally, have a good attorney look at your contracts. "It's important to have someone watching out for you legally," says Kaplan. Wiese, who acts as chairperson for the Ethics Committee for the Eastern Mass Consumer Complaints Department, says he hears plenty of horror stories about people getting socked for the liens placed against their land by professionals who have defaulted on work. Wiese says that the number one protection a client can have is a lien release waiver. Discuss it with the attorney.
Your dream home. It's going to be better than any house built out of chairs and sheets. Your architect will be passionate about translating your design bible into a blueprint. Your builder will be passionate about turning the vision into the reality. Says Kaplan, who is currently enmeshed in an 11,000 square foot custom dream house in Wellesley, "It's a time-consuming process full of great rewards and also great frustrations. In the end? Elation." 
Sources:
Patrick Ahearn
Patrick Ahearn Architect, LLC
www.patrickahearn.com
617.266.1710
Ken Barber
Barbers Fine Home Builders
www.barbersfinehomes.com
508.653.5730
Russell Busa
Sterling Homes Development
www.sterlinghomesdev.com
978.579.9833
Peter Fallon
Fallon Custom Homes
and Renovations
781.237.0505
www.falloncustomhomes.com
Jan Gleysteen
Jan Gleysteen Architects Inc.
www.jangleysteeninc.com
781.431.0080
Doug Hanna
S+H Construction
www.shconstruction.com
617.876.8286
Marc Kaplan
Sanford Custom Builders
www.sanfordcustom.com
781.416.7007
Tom Mitchell
Mitchell Construction Group, Inc.
www.mitchcogroup.com
508.359.7904
Dan Paquette
Woodmeister Master Builders
800.221.0075
www.woodmeister.com
Peter Sachs
Peter Sachs Architect
617.527.5777
www.petersachsarchitect.com
Ray Wiese
The Wiese Company
www.wiese.com
508.655.4013