Behind the Scenes with the Wellesley Players
Janet Mendelsohn writer
Eric Barry Photography photographer
Scene: 
A call-back audition for Annie, December 15, 2010
Twenty-one girls are glued to Liza Levy's every movement. For 20 minutes, Levy, a marketer for Rounder Records by day and a choreographer by night, has been teaching the pre-teens and teens an intricate sequence of dance steps. Behind her is a wall of mirrors where each nimble dancer can check that her high kicks are high enough, her timing and posture correct. It's Wednesday, a school night, and the girls are in the basement of Wellesley's Christ Church United Methodist for the second round of auditions for The Wellesley Players' upcoming production of Annie.
Dressed in leggings or plaid lounging pants and T-shirts or tank tops, the slender dancers thrust their arms forward, swing hands behind their backs, rapidly slide sideways, kick out, cross one leg over the other, slide again, extend their arms left and right at shoulder height, and flutter their hands like the wings of birds. It's a sassy routine that most of them learn easily.
Over three previous days, 103 children and adults from throughout greater Boston auditioned for this community theatre production. Director Rachel Fennell, Stage Manager Emily Hart, and actors' rep Valerie von Rosenvinge now sit together at a table studying those who made the first cut. By the weekend, the creative team, including Levy and music director Chris Holownia, will announce the cast.
On January 3, production will be in full-swing. There's no time to waste, what with songs, choreography, staging, and dialogue to learn; sets to build; lighting to design; costumes to create; audiences to be enticed; and tickets to sell before opening night in March.
I'm watching the rehearsal from the wings with Annie producer Marian Morrison who calls herself "a Catholic cantor" at St. Johns Parish in Wellesley Hills. "You can tell quickly which kids have what it takes. They get the routines right away and your eye is drawn to them," she says.
With instruction ended, in quick succession the hopeful "orphans" perform in groups without Levy to guide them. The dance audition is quick, decisive. Next Fennell hands them "sides," or pages of the script. "Ladies, make no assumptions based on which part I ask you to read," she says. "Remember that Annie is the boss. She's calm and collected. She knows she can handle whatever life throws at her."
Later she tells me, "As director, my approach is to paint a real picture. This story is derived from a comic strip and art imitates life, but back then there were kids who lived very much like this. We want to show the dichotomy between how the rich and the poor lived. I talked to the kids a lot about closing your eyes and imagining that you have no mom, no dad, you sleep in a room with 11 other girls and the only adult there for you is [the hated headmistress] Miss Hannigan. They can picture it. It really shows in their eyes."
Among qualities the team looks for is an actor's ability to take direction. When two candidates for the role of Annie run through a scene with two equally talented men auditioning to be Oliver (Daddy) Warbucks, the male lead, it's clear the choices will be difficult.
Annie, of course, is the much-loved Broadway musical based on the comic strip Little Orphan Annie. It's the Depression-era story of a spunky orphan who is invited to stay at the wealthy financier Warbucks' home for two weeks as a publicity stunt. Warbucks' heart melts, however, when Annie beguiles him, as well as President Roosevelt and nearly everyone else, with her optimism about the outlook for tomorrow.
The Wellesley Players, founded in 1925, is among the oldest community theatre groups in the country. (America's first was The Footlight Club in Jamaica Plain which has performed annually since 1877.) Their Steel Magnolias and Fiddler on the Roof recently earned awards from EMACT, the Eastern Massachusetts Association of Community Theatres. In 81 seasons, they have staged more than 150 productions, including two mainstage shows a year, typically a drama and a spring musical. The affiliated Wellesley Players Family Theatre introduces children as young as age three or four to the magic of live performance.
Like all community theatre, nearly everything depends on volunteers. From 80 to 100 are needed per show. Watching behind the scenes, what strikes this observer is the collaborative spirit that makes it work and the bonds of friendship that grow.
Director Rachel Fennell, manager of a training program taught by clinicians, is also the current EMACT president. "This region is especially active for community theatre and it's a cut above the rest," she says. "You can find terrible work, but on the whole you find higher quality than in other parts of the country." So much enthusiasm, however, has led to overabundance; more than 100 community theatre groups are in eastern Massachusetts alone. (About half belong to EMACT.) "We're now competing with each other for actors and audiences. Greater Boston is a very supportive community but it's affecting the bottom line" in terms of crucial ticket sales, she noted.
Because family and friends make up a large part of the audience, Fennell says Annie is a cash cow when you put 30 girls into the orphan ensemble, but it doesn't make for a good show. The Wellesley Players auditioned 76 girls. After tonight, 10 will be chosen.
Scene: 
Rehearsal, February 1, 2011
Lauren Weintraub, 12, of Sudbury, is Annie. A slip of a girl, she lights up the room with energy and a big, confident singing voice that sounds remarkably like the star of the original Broadway show. "I've been in six or seven musicals," she tells me. "I love it. It's my hobby. I met some of my best friends through training at the Performing Arts Connection in Sudbury and several are in this show. This is the role I've always wanted." Fennel says Lauren "has been performing practically since she was in the womb. She's really talented."
When Bruce von Rosenvinge arrives, wearing track pants and a Grateful Dead T-shirt, several "orphans" rush over as if he was Santa. Lauren gives the big man a hug. Von Rosenvinge, 50, an insurance defense litigator from Weston, has been selected to play Oliver Warbucks. New to the Wellesley Players after numerous children's shows at Open Fields, this is his first major theatrical role since he was a student at Wellesley High. He's comfortable on stage, a folk singer and guitarist, but dancing… well…he says working with him is choreographer Liza Levy's biggest challenge.
"I spend at least two hours a night memorizing my lines," says von Rosenvinge. "My wife, Susie, now knows the play by heart." In community theatre, many family members get involved. Susie, an artist, works with several parents and others on sets. Still others apply makeup, do hair, work in the box office, or bring food for the cast on performance dates. Tonight is Kim Lanzoni's turn as on-site parent should any child need help. Haley, her daughter, is Tessie, one of the orphans in the cast. "Between voice and ballet lessons, school, three-hour rehearsals, and all the other things she does, the balancing act is difficult," says Lanzoni, "but the kids have a wonderful time."
Right now, like experienced professionals, the children's ensemble is singing and dancing while pretending to scrub the floors in "It's a Hard Knock Life." Holownia conducts his exuberant chorus from an upright piano off to the side. Others work unseen. It is Virginia Handerhan's turn to chair the costume team of four women from three different communities: Wellesley, Arlington, and Sherborn. "You don't need to be a terribly skilled seamstress but you need a vision, and a sewing machine," she says. What the group's costume shop can't provide, the team hunts and gathers, borrowing from other community theatres.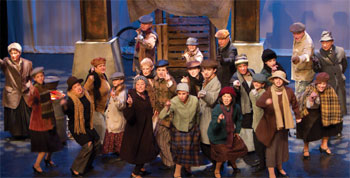 "Love of theatre can be infectious, contagious," observes Handerhan. She caught the bug from her children. "Among your neighbors there are a lot of very talented people and you'd never suspect their abilities if you don't attend community theatre."
To anyone hesitating to lend a hand or audition, Bruce von Rosenvinge says, "Get over it. It's one of the most amazing experiences you'll ever have. You meet people from all walks of life who you'd never otherwise have an opportunity to meet and who come together to take on this project. I've been lucky to experience many things but the camaraderie of community theatre is the best."
In the past year, an online tool called a "wikispace" has improved communication among cast members, their families, and the production crew for schedule changes, backgrounders, and news. Levy uses the "wiki" to post videos of dance numbers that she shoots with her cell phone camera so the ensemble can review their choreography between rehearsals.
Other obstacles are harder to overcome. While the Burlington Players, for example, hold auditions, rehearse, build sets, and perform in a single town-owned building, the Wellesley Players have no such place. Instead, they juggle. They pay space rental fees to the church, build sets in a second building, store costumes and props in a third, and perform in a fourth. One week before opening, it will all come together at Babson's Sorenson Center for the Arts. The tech team has four days to install sets and perfect lighting, furniture placement, and sound; dress rehearsals will be on stage for the first time. The orchestra rehearses only twice. Next year, Babson is increasing the fee to rent its theatre. Needless to say, The Wellesley Players is seeking a more affordable space where everything happens under one roof.
Scene: 
Opening Night, March 11, 2011
There's a happy buzz throughout the crowded lobby for this first of six performances. We take our seats, a hush falls over the audience, and the orchestra begins. Right away, we're swept into the story. Several actors are as good as any professional you'd see on a Boston stage. The show is a delight, so delightful, in fact, that I already look forward to seeing what The Wellesley Players will have to offer next year. 
For a schedule of upcoming productions, visit www.wellesleyplayers.org.