Face to Face: An Interview with Peg Golden On Broadway
Laura Lamere writer
Brian Smith photographer
Peg McFeeley Golden is one of those people who puts you right at ease. She smiles freely and talks to you in a familiar tone that makes you think you are in on a big secret. But it is no secret that Peg Golden is successful…and busy.
Known to many in Weston as mother to Emily (20), Carly (18), and Matt (15), Peg is also a Tony Award-winning Broadway Producer and a Tony Award voter. Peg has nurtured an impressive list of Broadway shows including Thoroughly Modern Millie, Hedda Gabler, Necessary Targets, and Ma Rainey's Black Bottom to name a few.
Peg is an active volunteer in the schools and local organizations, such as Best Buddies, which supports the creation of friendships and employment for people with intellectual disabilities. While she is generous with her time, her volunteer support is also pragmatic. Daughter Carly was diagnosed with autism just before they moved to Weston. Peg explains: "This is a kid who comes home and doesn't tell me how her day is. I need to be involved and talk to teachers and find out how she's doing."
Her volunteer work extends to the University of Notre Dame, where she is on the Advisory Council of the Performing Arts, and to the Board of Commonwealth Shakespeare Company (CSC), which provides free productions on the Boston Common each summer.
On the night of our interview, we dined on Beacon Hill and then walked to the Common for Shakespeare's All's Well That Ends Well. Broadway is quiet at this time of year and she is very proud to be part of something so creative in her hometown city. "It's been just a jewel for Boston."
When we reached the Parkman Bandstand, the area was packed with people. I watched as Peg hugged the first of several people she knew. Peg then greeted two groups of Weston supporters, and CSC Artistic Director Steven Maler, embracing them all with enthusiasm for the night's performance. Seeing Peg in action made me realize that this contagious enthusiasm has enabled her to succeed in a career she knew little about when she started in 1999.
Peg, however, gives credit to her family. "The only way I could do this is with the support of my husband, Rick. He has been behind me and has encouraged me every step of the way," says Peg. "My kids have also been immensely supportive."
Timing is key
Growing up in Medford, Peg was not involved in the arts and, as one of eight children, she never had an opportunity to attend theater. "I didn't act as a kid, but I appreciate it and I think it's important."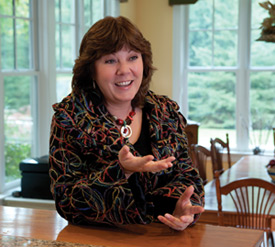 So, just how did she create this career for herself? According to Peg, timing is key. In 1999, while living in London, Peg and Rick were invited by producer friends to learn about a new show they were promoting: Jane Eyre: The Musical.
Peg caught the theater bug that night: "We were introduced to artistic people who were so different from anything I was used to in corporate America…I was rubbing elbows with the set designer from Miss Saigon and Tony Award-winning Director Jim Caird…and I started to think, what a cool business!"
Peg hosted parties in London, New York, and Weston featuring performances by Jane Eyre cast members — and raised an impressive eight million dollars. After raising the money for Jane Eyre, Peg officially became Lead Producer. She was responsible for all of the business aspects of the show including hiring the creative team and cast, writing checks, firing people, and closing the show. "I took on much more of a lead role and it was really hard. My kids were little."
Ultimately, Broadway is a business, but very few shows recoup expenses and then go on to make money. "You basically tell people if it's your last dime, don't do it because most of these investments don't pay off. But if you can do it, it will be the most fun investment you have ever made," Peg says.
Investors get invited to rehearsals and opening night, and have access to house seats. But the risk is not for everyone. When she is promoting a show, Peg keeps in mind whether people have her same passion: "They have to love the arts."
What really helps shows do well is old-fashioned word of mouth. "It's such a huge part of theater. I invested in The Color Purple with Oprah Winfrey and, of all my shows, that's the one that has been a huge hit." The buzz around Winfrey's involvement, and the fact that she promoted it on her daytime television show, helped its popularity. "Once Oprah joined that show, it just took off…if every show had Oprah, life would be good!"
Witches in Weston
Producers attend what is called a "meet and greet" for each show before it opens, bringing together everyone involved. At one of these gatherings, Peg experienced the highlight of her career. She was a Producer for The Crucible, starring Liam Neesen and Laura Linney, and while she was excited to meet the actors, it was meeting the playwright Arthur Miller that is the most memorable. "It's a religious experience to meet someone of his caliber," she remembers.
Peg introduced herself to Miller and he asked where she lived. "I told him I lived in Weston and he said, 'Oh, Weston! Do you know how many witches fled to Weston?' He said, 'In my research for The Crucible, I found that a lot of the families would get wind that the mother was about to be arrested, and would make the two-day horse ride from Salem to Weston.' He told me he spent some time in Weston doing research for the play."
Another memorable moment with Miller came during the 2002 Tony Awards. Both of Peg's productions, The Crucible and Thoroughly Modern Millie, had been nominated, and Peg was seated next to Miller in anticipation of winning an award. When her name was called at the end of the night for Best Musical for Millie, Peg jokes: "I had to climb over Arthur Miller… I don't think he even woke up when I climbed over him."
Voting from the Heart
The Tony Awards are chosen by a cast of 700 voters from all areas of the theater business. Each year, the Broadway League asks Tony Award voters to attend around 30 shows a season, filling out an official ballot form for each show.
"As a Tony voter, I get invited to every single show. When shows open, they give me two great seats at Center Orchestra, and when the nominations come out, I'm re-invited. I don't plan too much after March because my job is to vote; and I take it very seriously." Not all voters do. Her friends point out that even though she isn't based in New York, she is the one who sees every show.
When she is attending Broadway shows with her ballot in hand, Peg always brings a friend or one of her family along. "I now drag Matt to New York City each season to see shows and he rarely complains. Emily comes to New York during her breaks from the University of Notre Dame. Carly loves music and is my date for most musicals."
"I'll always ask the person I went with: 'What did you think? Were they worthy of the Tony or not?' Usually, you know in your gut – you just know! I vote from the heart," she explains. 
Peg's husband, Rick, measures a show by staying awake: "If he gets a good sleep during a performance, that's not the show for him." And that's the challenge. "So many shows I would never in a million years pay to see – but the acting can make such a huge impact. It can be the worst show on earth, but if the acting is outstanding, you actually come out of there going 'wow!'"
On Broadway
Life is good for Peg and it is clear from her animated expression that she loves Broadway. Peg and Rick recently bought a condo in Times Square and look forward to the day when their youngest, Matt, graduates from Weston High and they can spend more time in New York.
"My friends think I'm crazy, but I just love it," says Peg. "I call it the center of the universe. Everything I do is in that neighborhood. I look out and I see La Cage Aux Folles, Chicago, and Sister Act – so it's a great spot. The joke is," she says, using her hands to make the gesture of her name in lights, "finally, I'm on Broadway…for real!"
Peg's next big show, The Mountaintop, starring Samuel L. Jackson and Angela Bassett, opened in October at the Bernard Jacobs Theatre in New York City. Written by Katori Hall and directed by Kenny Leon, the show won numerous awards in London and is about the last night in the life of Dr. Martin Luther King, Jr.
For Peg, it's time to launch another show and, with luck, another smash hit. Go if you can – and maybe you'll see Peg there. Look for her in the house seats: Center Orchestra. Say hello, and you'll get a warm greeting – and maybe a hug too!