Join more than 150 Cambridge School of Weston (CSW) students and faculty as they host art and fashion shows and a capella, chamber and rock/pop concerts. The 10th Annual Evening of the Arts is free to attend.
WHEN:
December 19, 2018 at 6pm
WHERE:
The Cambridge School of Weston
45 Georgian Road
Weston, Mass. 02493
Schedule:
The Mugar Center for the Performing Arts, Moir Theatre
6pm: Pocket Players American Sign Language theatre performance of "Jack and the Giant Chaser" and "Gammer Gurton's Needle". Pocket Players tours local elementary schools, provides students an introduction to American Sign Language, theatre performance and deaf culture.
The Garthwaite Center for Science and Art
6pm: End of Mod 3 Art Show (ongoing)
Student participants from the following visual art classes will showcase their work: Digital Collage, Wearable Art, Ceramic Sculpture, Art and Science of the Human Body, Photo 1, Portrait photo, Digital Photography, Experimental Film and Animated Film.
6:30pm: Student A Cappella concert
Members of The Gryphtones will perform "The Chain" by Ingrid Michaelson and "Colder Weather" by Zac Brown Band
6:40pm: Selected recitations from LitMag, CSW's literary magazine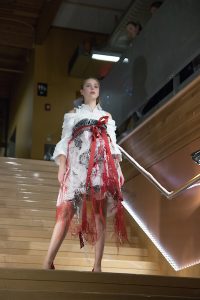 The Mugar Center for the Performing Arts, Robin Wood Theatre
7pm: Welcome by student hosts
7:05pm: Wearable Art Fashion Show
Students will showcase the work they completed in their Wearable Art classes
7:45pm: Rock/Pop Ensemble's "The Music of Michael Jackson"
The Cambridge School of Weston is located at 45 Georgian Road, Weston, Mass. 02493. For additional information, call 781-642-8600, visit www.csw.org or email gryphon@csw.org.