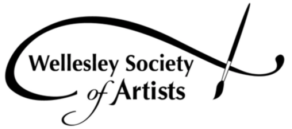 The Wellesley Society of Artists has new and continuing exhibitions as well as events throughout the year. Also, keep your eyes out for WSA exhibits throughout the town of Wellesley!
The Wellesley Society of Artists 2019 Fall Show opens on Wednesday, September 18th in Henderson Hall at the Wellesley Community Center. This exhibit includes artwork in acrylic, oil, watercolor, pastel and mixed media from over 30 exhibiting members.  The judge for this show is Margaret McWethy… About Margaret McWethy… "Margaret McWethy, Impressionist painter, studied art history and biology at Swarthmore College. Since graduating she has sought teachers who base their art on training, careful observation, and understanding.  Master colorist, Henry…
Don't miss the the WSA's annual premiere show during the month of November, hosted by the Wellesley Free Library. Over 50 works of art in oil, acrylic, watercolor, pencil, and mixed media are expected to showcase the diverse talent of the WSA. This show will be judged by artist, Jean Lightman, current president of the Guild of Boston Artists.There will be an awards reception on Sunday, November 10th at 1:15pm in the Wakelin Room, followed by a live demo by portrait…
The Webster Bank in Wellesley is hosting a WSA exhibition, November 18th -January 31st. Don't miss this diverse display of over 60 paintings, ranging from realistic impressionism to mercurial abstracts in watercolor. There will be a reception on December 5th from 6:00-8:00pm, which is open to the public and a wonderful opportunity to meet local artists and learn more about their artwork. If you plan to attend the reception, please RSVP to wsaartists@gmail.com. The Wellesley Society of Artists gratefully acknowledges Webster…
We hope you will join us… The Webster Bank in Wellesley  is hosting a reception on Thursday, December 5th from 6:00-8:00pm to celebrate the art and artists participating in the WSA exhibition which is on display at the Wellesley Webster Bank, November 19th – January 31, 2020. The reception is a wonderful opportunity to both see the artwork and talk with some of the artists.  The reception is free and open to the public, but please RSVP to wsaartists@gmail.com if…
The Wellesley Society of Artists welcome renowned landscape painter, Joe McGurl, on Sunday, March 22, 2019 for a painting demonstration from 1:30-4:00pm. The program titled "Landscape Painting Tips and Techniques" will give attendees the rare opportunity to see some of McGurl's painting strategies and processes that he uses to create his majestic landscapes. Although McGurl is a modern conventional landscape painter, he is applauded for his loyalty to the plein air process and decision not use photography. Instead, McGurl's deep…
Save the date! Kathy Anderson will be doing a painting flowers demo on April 9, 2020. The program begins at 6:30pm at the Wellesley Free Library. More information coming soon!