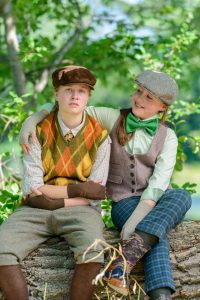 Join us as Wellesley Theatre Project (WTP) presents A Year With Frog and Toad, KIDS!  July 2nd and 3rd at 7pm. All performances will take place at the Wellesley Theatre Project Studio Theater, located at 219 Washington St, Wellesley, Hills, MA 02481.  Tickets are priced $15 for adults and $10 for students and seniors, and may be purchased online at http://wellesleytheatreproject.org in advance, or at the door for $18 for adults and $12 for students and seniors.
A Year With Frog and Toad, KIDS! tells the story of a friendship that weathers all seasons. Hop with us as we follow the cheerful, popular Frog, and the rather grumpy Toad, through summer, fall, winter, and spring as the two best friends celebrate and rejoice in the differences that make them unique and special. Part vaudeville, part make-believe, and all charm, this musical is based on the three-time-Tony-nominated Broadway hit, and on the well-loved books by Arnold Lobel.
A Year With Frog and Toad, KIDS! features a talented casts comprised of 17 students between the ages of seven and twelve. Cast members of a Year With Frog and Toad, KIDS! reside in Wellesley as well as neighboring communities including Aburndale, Natick, Newton, Needham, and Weston, and other states including Massapequa, NY, Canton, NY, and Irvine, CA.
A Year With Frog and Toad, KIDS! features a book and lyrics by Willie Reale, music by Robert Reale, and is based on the books by Arnold Lobel. A Year With Frog and Toad, KIDS!  is produced through special arrangements with Musical Theatre International.
Wellesley Theatre Project is an arts academy and a Wellesley nonprofit devoted to providing students (PreK – 12th Grade) with the opportunity to study and experience theatre and performing arts through year round classes, staged productions, workshops and summer camps.
Registration is open for WTP's 2019 Summer Camps. Sessions include three production camps geared for students between 2nd and 12th grade in addition to one week Theatre Arts camps for Pre K- 12th grade. Registration is also open for WTP's Fall production of Frozen, Jr. (Grades 2-12), and weekly classes in theatre, acting, musical theatre dance, tap, improvisation, private voice lessons, and musical theatre for students Pre-K through 12th grade.
For more information about A Year With Frog and Toad, KIDS!  or other Wellesley Theatre Project classes and productions, please visit www.wellesleytheatreproject.org or call 781- 235-1550.