175 vendors will exhibit. See information and photos below of just a few of this year's exhibitors.
Community booths include The Fund for Wellesley, Sustainable Wellesley, Wellesley Gardeners Guild, Wellesley Parents Supporting Art Students, Girl Scout Troop 73505 and the Wellesley High School Sailing Team.

Aubrey Elizabeth Apothecary
So very sweet but not to eat! These delectable vegan soaps are the whimsical work of Aubrey Elizabeth Apothecary. From Oreos, cinnamon buns, and donuts to yes – a bento box of sushi and much, much more – visitors will want to wash their hands of boring everyday soaps in favor of these fresh, fabulous creations. Look for luscious lip butters and scrubs along with foot salves and body whips, too.

McCrae's Caramels
McCrea's award-winning caramels are handmade in small batches with premium, all natural ingredients. We use locally sourced cream, milk, and butter and insist on environmentally-friendly packaging for a product that's good to your tastebuds and to the world at large. No corn syrup. No compromise. Great caramel by design! Tanner Glass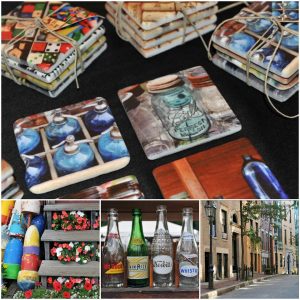 Sharon Schindler Photography
Over the past 20 years, photographer Sharon Schindler has specialized in fine art photography. She has explored a variety of new digital media for her photographs, most recently printing directly onto stretched canvas, wood, and stone. We welcome her to the Wellesley Marketplace!


Tanner Glass creates FUNctional objects for everyday life made from handblown or handsculpted solid glass. Mini magnets, beautiful paperweights, and other fanciful works in glass make the perfect holiday gift for yourself or someone else!


Elizabeth Benotti Ceramics
Formally trained ceramics artist Elizabeth Benotti brings her unique perspective and vision to each handcrafted piece she makes. Working with a porcelain clay body, she uses a mix of slipcasting, handbuilding and wheelthrowing techniques to craft her contemporary ceramics. Most of her work features drawings which are inlaid into the clay using traditional mishima process and decorated with hand painted colors.