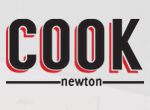 Cook, the highly acclaimed American bistro located at 825 Washington Street, Newton, MA  is welcoming multi-media journalist Janet Wu as part of its continuing "Cook for Charity" celebrity chef series. Janet will trade in her microphone and get cooking with Executive Chef/Owner Paul Turano, where they'll be serving up flatbreads to benefit the Ed Walsh Foundation.
In addition to Cook's signature menu items, Janet and co. will be serving up "The Edzo" special, a house-made flatbread topped with pepperoni, roasted peppers, San Marzano tomatoes and mozzarella. 100 percent of sales from each $16 "The Edzo" flatbread, affectionately named after Ed Walsh himself, will be donated to the foundation.       

Named for Lieutenant Ed Walsh of the Boston Fire Department, the Ed Walsh Foundation was established to keep Ed's spirit alive by giving back to the community where he lived and worked. The Foundation's mission is to help Boston area children and families in need. In addition to lending a hand to local families coping with tragedy, death or illness, the Foundation also supports youth sports, after school programs and organizations like the YMCA and Franciscan Children's.
Janet Wu will be joining the Ed Walsh Foundation for this special event. Janet is a multi-media journalist known locally for her many years as an anchor/reporter for Boston's NBC station. She currently contributes health reports for two networks and is an adjunct professor at Emerson College. A frequent Op-Ed contributor to The Boston Globe, her work has also been published in The New York Times, The Boston Herald, and several anthologies, including The "Norton Sampler of Essays," one of the most widely read college textbooks. She graduated from Yale with a dual major in Philosophy and Psychology and earned a master's degree in Journalism and International Affairs at Columbia University. She was named The Girls Scouts of New England 2015 Leading Woman of the Year and selected as a fall 2016 TEDX speaker.
This night of cooking is one of several celebrity chef events at Cook, all of which raise money and awareness about a charity chosen by the specific celebrity chef of the evening. The regular menu will also be available on the night. For more information, visit www.cooknewton.com or call 617-964-2665. Reservations are recommended.