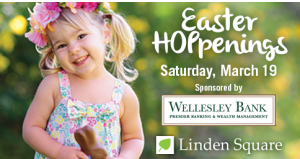 Breakfast with the Easter Bunny, Scavenger Hunt, Photo Booth, Petting Zoo, Crafts and more!
What: Fun free activities for kids and parents alike to enjoy together!
For more info.
* Breakfast with the Easter Bunny at The Cottage: 8am and 9:35 am (reservations required)  A portion of proceeds to benefit the Wellesley Recreation Summer Camp Scholarship Program
* Scavenger Hunt and in-store activities: 9:30 to Noon- open to everyone!
It's easy to play and lots of fun. Pick up your clue sheet at the Courtyard. Then head off to the participating stores to enjoy the activities. Once you complete the activity, be sure and get your sticker from each store and place it next to the store name on the clue sheet. Collect all 7 stickers, one from each participating store. Then head over to the Courtyard and present your clue sheet to have your picture taken at the photo booth. You will receive a free photo strip to take home!
* Easter Bunny: will walk around the sidewalks to greet everyone from 9:30 to 11 and will visit guests in the courtyard from 11 to Noon
* Petting Zoo from 10:30 to Noon at Kenzie and Tiny Hanger