The Davis Museum at Wellesley College presents six new exhibitions this fall.  New View: 2014 Faculty Exhibition; Feast Your Eyes; Sigalit Landau: DeadSee and Michael Craig-Martin: Art&Design will be on view September 17 – December 21.   Edged in Black: Selections from SMS and Hanging with Old Masters: Davis Museum Reinstallation, will open on October 1 and be on view through Spring 2015. An opening reception will be held Wednesday, September 17, 5:30-7:00 p.m.
ABOUT THE EXHIBITIONS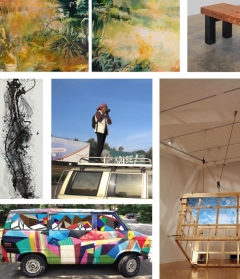 NEW VIEW: 2014 FACULTY EXHIBITION
September 17 – December 21
Marjorie and Gerald Bronfman Gallery | Camilla Chandler and Dorothy Buffum Chandler Gallery
New View, a survey of recent work by eleven faculty artists, will offer visitors the unique opportunity to explore the extraordinary talent and broad scope of production within the faculty at Wellesley College.  Known to students in their classrooms and studios, the members of the faculty featured in this exhibition are at once educators, mentors, and active, professional artists. Their work is regularly shown in galleries and museums across New England, throughout the country, and in many cases internationally.
Participating artists are Carlos Dorrien, Bunny Harvey, Candice Ivy, David Kelley, Phyllis McGibbon, Salem Mekuria, Qing-Min Meng, Andrew Mowbray, David Teng-Olsen, and Daniela Rivera from the studio art faculty and Nicholas Knouf from Cinema and Media Studies.  Capturing their extensive range, the exhibition includes paintings, prints, and sculpture, as well as video and mixed media installations. Curated by Claire Whitner, associate curator. Generously supported by Wellesley College Friends of Art at the Davis.
FEAST YOUR EYES
September 17 – December 21
Morelle Lasky Levine '56 Works on Paper Gallery, Friends of Art Gallery, and Robert and Claire Freedman Lober Viewing Alcove
Artfully photographing a meal is not only a recent foodie fad, but taps a long history of feast and famine imagery. Connecting contemporary interest in stylized cuisine with the rich tradition of still life in art, this exhibition charts changing fashions in consumption through prints, drawings, photographs, paintings, and dinnerware from the Davis collections. Representations of food have influenced and imitated beliefs about gastronomy in different eras, serving up important reminders that art is a vital form of dietary persuasion. Curated by Mazie Harris, former Linda Wyatt Gruber '66 Curatorial Fellow in Photography. Generously supported by Wellesley College Friends of Art at the Davis.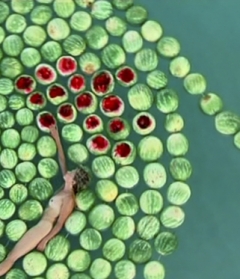 SIGALIT LANDAU: DEADSEE
September 17 – December 21
Joan Levine Freedman '57 and Richard I. Freedman Gallery
Known for a performative art practice that explores the landscapes of Israel, Sigalit Landau works in video, installation, sculpture, and drawing. Her elegant video, DeadSee, embeds the artist's body within a spiral of 500 floating watermelons, gradually unfurling in the buoyant waters of the Dead Sea. The piece reinscribes the representational tradition of "still life" with unexpected layers of reference and movement. Curated by Lisa Fischman, Ruth Gordon Shapiro '37 Director, with generous support from the Wellesley College Friends of Art at the Davis.
MICHAEL CRAIG-MARTIN: ART&DESIGN
September 17 – December 21
Dorothy Johnston Towne Gallery
This recent print series from conceptual artist Michael Craig-Martin treats icons of contemporary art and design in the artist's signature style—rendered as spare, sharply graphic line drawings, with a flashy pop palette of colors in unexpected combinations. Craig-Martin was a star of the 2014 Friends of Art Patrons Trip to London and personally guided a group through his unforgettable intervention at Chatsworth, home of the Duke and Duchess of Devonshire.
The purchase of this portfolio, made possible through the generosity of Friends of Art "London Trippers," brings the enthusiasm and energy of the experience home to the Wellesley campus. On view this fall, the presentation kicks-off the 50th Anniversary celebration of Friends of Art— who raise friends and funds in support of the Davis.
Gift of Mary Norton '54, Judith Phinney '63, Joan Hass '66, Myra Levenson '61, Susie Bennet '59, Eileen Conroy '75 and John Eckert, Nan Tull '59, Christine Reese '88, Cathryn Griffith '88, Fran Schulman '75, and Janet Diederichs '50 in honor of the Friends 50th Anniversary Trip to London.
EDGED IN BLACK: SELECTIONS FROM SMS
October 1 – Spring 2015
Lawrence and Ina Lee Brown Ramer Gallery
Compiled between 1967 and 1968, the SMS series was one of several important experimental ventures that sought to destabilize the boundary between traditional media, while also making work by the day's leading artists accessible to those outside of the collector class. Through the generous gift of Nancy Gray Sherrill, Class of 1954, the Davis holds the complete portfolio, which includes work by Marcel Duchamp, Joseph Kosuth and Roy Lichtenstein alongside music by La Monte Young and Terry Riley. Curated by Michael Maizels, Mellon New Media Curator/ Lecturer. Generously supported by the Anonymous '70 Endowed Davis Museum Program Fund.
HANGING WITH OLD MASTERS: DAVIS MUSEUM REINSTALLATION
October 1 – Spring 2015
Joanne Larson Jobson Gallery and Harold and Estelle Newman Tanner Gallery
Showcasing Old Master Italian paintings under consideration for the upcoming reinstallation of the permanent galleries, many of which have been off view for decades, the fifth floor of the Davis Museum will become a laboratory for the exploration of the curatorial reinstallation process. One wall will be lined with 3D models of the Davis Museum and will afford the campus community and the general public transparent access to the reinstallation process. The other three walls on the fifth floor will be devoted to understanding the curatorial process through Old Master Italian paintings. Issues and concerns—including questions of display, conservation, and aesthetics—that inform whether an individual work of art will be included in the reinstallation will be revealed and, hopefully, demystified. Curated by Eve Straussman-Pflanzer and Claire Whitner, with generous support from the Sandra Cohen Bakalar '55 Fund and the Mildred Cooper Glimcher '61 Endowed Fund.
Photo Credits:  Sigalit Landau, DeadSee, 2005, Video, 11:39 min. loop, silent, Courtesy of the artist; Michael Craig-Martin, Art&Design, 2012 Set of 10 screen prints on Somerset Tub-Sized Satin 410gsm paper, Paper and image 100.0 x 45.3 cm (each); Edged in Black, Special thanks to the William N Copley Estate. Photo by Steve Briggs; Valentin de Boulogne, St. Jerome, ca. 1628-30, Oil on canvas, overall: 52 1/2 in. x 38 3/8 in., (133.4 cm x 97.5 cm), Anonymous gift.
DAVIS PUBLIC PROGRAMS
FALL OPENING CELEBRATION
Wednesday, September 17 | 5:30 – 7:00 PM
Please join the Davis in celebrating the opening of our fall exhibitions! Enjoy the first viewing of New View: 2014 Faculty Exhibition, Sigalit Landau: DeadSee, Michael Craig-Martin: Art&Design, and Feast Your Eyes before heading to the lobby for a festive reception.
NEW INTERVIEWS
Wednesdays, September 24, October 22 & November 12 | 6:00 – 8:00 PM
Delve deeper into the practices of the artists featured in the New View exhibition with the New InterViews series of three gallery talks.  Each session features interviews with faculty artists led by a Davis Museum curator and includes a reception in the Davis Lobby.
September 24: Assistant Director of Curatorial Affairs, Eve Straussman-Pflanzer, with professors Carlos Dorrien, Salem Mekuria, Qing-Min Meng, and Daniela Rivera
October 22: Mellon New Media Curator/Lecturer, Michael Maizels, with professors David Kelley, Nicholas Knouf, and David Teng-Olsen
November 12: Associate Curator, Claire Whitner, with professors Bunny Harvey, Candice Ivy, Phyllis McGibbon, and Andrew Mowbray
FAMILY DAY AT THE DAVIS
Saturday, October 11 |11:00 AM – 3:00 PM
Join the Davis to celebrate our favorite things about fall.  Listen to live bluegrass music and eat some treats on the Davis plaza, or head into the galleries to embark on a scavenger hunt.  Watch Wellesley College faculty who are featured in New View demonstrate art making processes, then try your hand at pumpkin carving!
GALLERY TALK : Edged in Black
Wednesday, November 19 | 3:00 PM
Curator Michael Maizels discusses the exhibited highlights of the SMS Portfolio—including work by Marcel Duchamp, Joseph Kosuth and Roy Lichtenstein as well as music by La Monte Young and Terry Riley—examining these interactive, multimedia projects in light of the radical ferment of the late 1960s art world.
NEW!
DROP-IN PUBLIC TOURS
Special exhibition tours, led by a Student Guide, are free and open to the public on a first-come, first-served basis. All tours start at 2:00 PM and meet in the Davis Lobby.
➢    Saturday, October 4: New View: 2014 Faculty Exhibition
➢    Saturday, October 25: Feast Your Eyes
➢    Saturday, November: 8 Hanging with the Old Masters