Join us at the IMPULSE showroom on November 13th and 14th from 10am – 5pm.  A fun filled two days of event featuring the launch/trunk show of Nicole Romano Jewelry and a Raquel Fauza trunk show on Thursday 13th, and Heather B. Moore Personal Appearance and Trunk Show on the 14th.  Guests enjoy mini styling by Be Styled, sip exotic mocktails/cocktails, enter to win one of several IMPULSE gift cards, receive surprise discounts at every checkout. Receive a complimentary gemstone with purchase of Heather B. Moore jewelry.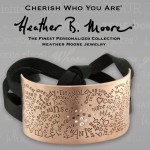 After graduating from Rhode Island School of Design and earning a BA in Apparel Design, Nicole Romano forged ahead by launching her own multidimensional brand with the encouragement and mentoring of Nicole Miller and legendary Sex & the City stylist, Patricia Field. As a result, she has established a following of clientele who are drawn to the bold, unique and unmistakable signature Nicole Romano aesthetic. These handcrafted pieces are individualistic with extreme proportions as well as inventive combinations of mixed media materials. Each collection amplifies the evocative power of extravagance. Known for her bold looks and statement pieces, her collection has been featured in Vogue, Elle, InStyle, Harper's Bazaar, Cosmopolitan, Lucky, Marie Claire, and Women's Wear Daily to name a few and worn by some of the hottest celebs in Hollywood. Nicole fuses local manufacturing with sustainability through her use of recycled metals and vintage stones, her namesake jewelry line brings a patina of contemporary glamour to the tradition of American craftsmanship. Exotic plant life sparks inspiration for her newest collection which features fans of bright navettes, triangular glass details, tropical pops of aqua, amethyst, lime and spiked chain ends swinging line vines when worn. Abstract oversized blossoms frame exuberant cuffs. The sharpness of palm leaf blades echo in interestingly structured multi chain necklaces. Jacaranda turns up the heat with the right punch of color.
Raquel Fauza, a native of a Brazil, resides in Wellesley, MA and has built a fan base through her "speak to me" collection comprised of one-of-a-kind personalized jewelry which replicates the wearer's treasured handwritten messages, signatures, drawing, footprints of their loved ones.
IMPULSE by Adamas Fine Jewelry
180 Linden Street
Wellesley, MA  02482
(781)416-1800