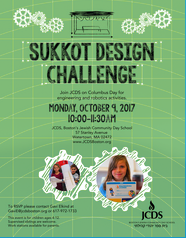 Monday, October 9th
Sukkot Design Challenge
10:00-11:30am
JCDS (57 Stanley Avenue, Watertown, MA)
Join JCDS, Boston's Jewish Community Day School on Columbus Day for engineering and robotics activities! This event is for children ages 4-12, and supervised siblings are welcome.
——-
Tuesday, December 19th
Admissions Information Session: STEM Education Through a Jewish Lens
9:00-11:00am
JCDS (57 Stanley Avenue, Watertown, MA)
The Admissions Information Session is a wonderful opportunity to meet current JCDS parents, see our learning community in action, and engage with our leadership team. On December 19th, learn about our innovative, pioneering STEM curriculum and how our talented team of educators incorporates engineering, robotics, and design thinking with Jewish education.
For more information and to RSVP, please contact Gavi Elkind, Director of Admissions, at GaviE@jcdsboston.org or 617-972-1733.