Acclaimed debut novelist Katherine A. Sherbrooke tours to Wellesley Books next month in celebration of her book, FILL THE SKY. There will be a reading, signing, and a reception Tuesday, October 25, 2016 at 7 pm at Wellesley Books, 82 Central St. Wellesley, MA 02482. The event is free and open to the public.
FILL THE SKY is the story of three dear friends, one whose cancer has exhausted

the reaches of western medicine, who travel to Ecuador hoping local shamans might offer a miracle. During a tumultuous week that includes strange ceremonies and a betrayal that strains their bond, each woman discovers her own deep need for healing, even the skeptic among them. This is a powerful novel about friendship, the power of the spirit, and living authentic lives.
Anita Shreve called the novel "deeply moving", Brunonia Barry hailed it as "a journey every woman should take", and Lynne Griffin said it's "a perfect read for a circle of friends."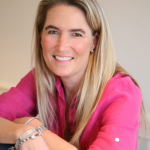 KATHERINE A. SHERBROOKE received her B.A. from Dartmouth College and M.B.A. from Stanford University. An entrepreneur and writer, she is the author of Finding Home, a family memoir about her parents' tumultuous and inspiring love affair. This is her first novel. She lives outside Boston with her husband, two sons, and black lab. Visit her online, on Facebook, or @kazzese. Publisher SixOneSeven Books is a small press based in Boston, established by authors Andrew Goldstein and Michelle Toth with the idea of "writers publishing writers".