Children's Birthday Parties to Celebrate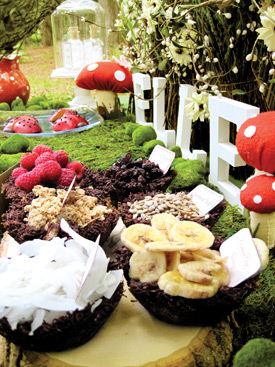 The newest generation of children may not remember Teenage Mutant Ninja Turtles or Beanie Babies, but birthday cakes never go out of style.
Some of the details have changed, of course. Nowadays, cupcakes are just as likely to be served as a giant sheet cake with the birthday child's name painstakingly spelled out on top. Many busy parents happily hire someone else to do the baking (and the planning), but old-fashioned parties at home with made-from-scratch cakes can still be found around town.
With the Ace of Cakes and The Martha Stewart Show setting the standard, most parents want a little more pizzazz for their parties – and what kid would turn down a tower of artfully arranged cupcakes or a build-your-own sundae bar? Do-it-yourselfers can find a huge range of menu ideas among parenting blogs, as well as internet sources for cake pans, decorative sprinkles, and everything in between. At the other end of the spectrum, children's party planners can help arrange all the details, from invitations to party favors.
Wellesley-based Kate Landers of Kate Landers Events, LLC, has been planning parties ever since she was age 10 and helped with her younger sister's birthday. Fast forward several years, and now she puts those skills to work for families who want to host a stylish children's party at home, but feel overwhelmed. She plans events for children of any age, but finds people particularly interested in how to celebrate baby's first year.
"First birthdays have become like second weddings," she says. These parties tend to be family affairs, so the menu might include more substantial food than sweets.
Older children relate well to themes of favorite toys or magical characters. These influence decorations, but can also carry through to the menu. For a four-year-old girl, Landers planned a woodland fairy party, complete with a moss green table runner and food displayed in "nests" made of shredded wheat and melted chocolate. Guests made their own trail mix from an assortment that included banana chips, granola, and sunflower seeds. For snacks, there were "ladybugs" made out of apple slices dotted with chocolate, and "snail swirl" sandwiches topped with strawberry cream cheese and jelly. Instead of a traditional cake, children decorated cupcakes to look like toadstools with red icing and white chocolate chips. They also ate chocolate-dipped strawberries. Everyone left with sticky fingers and a jar of "fairy dust."
A popular dessert option for almost any kind of party is a build-your-own ice cream sundae bar. Landers says birthday children particularly like being able to choose their favorite toppings and making up fun names for each one. The containers for the toppings can reflect the theme. For example, plastic pails with shovels to use as scoops work well for a beach party. "The level of excitement can be fun. It's a great alternative to cake," says Landers.
Parents who want to do more of their own planning find it useful to build a party around storybook themes, such as The Little Engine that Could, Anne of Green Gables, or the Little House series. Louisa May Alcott's Orchard House in Concord offers materials to help plan a Little Women party. These include a recipe for a favorite Alcott family apple recipe, and instructions for nineteenth-century games using hoops, thimbles, and plain old storytelling.
Shirley Miller of Natick, whose two sons are ages seven and twelve, has planned almost all of their birthday parties at home, using Bob the Builder, Star Wars, pirates, and race cars as themes. Some of the craft activities, such as making tarantulas out of pipe cleaners and lollipops, can do extra duty as snacks and party favors.
Birthday cake with candles marks the high point of any party. Even though cupcakes leave less room for candles, they have won over many children because they are so fun to eat and decorate. Custom cupcake bakeries take the pressure off of parents to create dozens of perfectly baked and decorated treats for the party.
"The trend for children's parties is the cupcake. It's more popular than anything else," says Beth Finnegan, co-owner of 5 Bites Cupcakes in Wellesley. Young customers there particularly like the Sno-Cone, a yellow cupcake topped with white frosting and a layer of crunchy, colorful sugar sprinkles, and the Oreo-topped Mudslide.
Another Wellesley cupcake bakery, Kick*ss, makes a variety of child-friendly flavors, despite its sassy name. The peanut butter cupcake, topped with milk chocolate ganache and roasted peanuts, tastes like a peanut butter cup candy bar. Super Chocolate, which is something like a brownie in a cupcake wrapper, pleases young chocolate lovers. Another favorite is a vanilla cupcake with cookie dough filling. Gummi candies and M&M's make popular toppings on any cupcake. For an easy display, Kick*ss sells cardboard cupcake stands which can be assembled at home.
Even with all the fun options for cupcakes and party services, some parents prefer to do as much as they can themselves. Alli Fronzaglia of Wellesley likes baking birthday cakes so much that she now donates some to homeless shelters through the Birthday Wishes program. Fronzaglia says she never used to bake until her daughter, Isabel, now age six, was born.
"I had never made a cake from scratch before, but I made my first cake for her first birthday. It felt more special to me if I made it," she says.
She kept going, learning by asking friends, going to Web sites, and experimenting. Not every cake worked out – Barney's feet crumbled in one of her efforts – but she still has fun with it.
"One of the things I've learned is that I give myself enough time. Two days before I have to be ready, I bake. The next day, I do the frosting. The last thing I want is at 11:00 p.m. to make a critical error and be out of ingredients to fix it," she says.
Fronzaglia likes to create the entire menu for her daughter's parties, too. "I get excited about the challenge of making it all myself," she says.
Her trick is to keep everything simple so that children and adults are likely to find something appealing – hot dogs, hamburgers, baked beans, macaroni and cheese, pasta salad.
Miller also likes to turn her children's birthdays into family parties. Because she often invites as many as 20 children, she encourages parents to join in the fun and stay and eat the pizza, meatballs, or chicken wings that she prepares.
"One year, the dads watched football because it was the Super Bowl playoffs, and everyone had fun," she says.
She often makes a large sheet cake, and washes plastic toys and action figures to use as decorations. Depending on the theme, her sons can help sprinkle "dirt" (crushed Oreos) or "sand" (brown sugar) on top. Since many children have food allergies, she tries to avoid nuts. One year, she even made a vegan cake. A favorite theme is a race track – two round cakes set side by side, with a track made of crushed Oreos and white lines made of white Good & Plenty candies. She wraps a black and white checkered cloth that looks like a racing flag around the side of the cake, removing it to serve the cake.
Landers advises parents to buy food that "children can relate to" and to do as much as possible ahead of time, such as cutting fruit. "You can even scoop ice cream the night before and put it back in the freezer until you serve it," she says.
This year, Fronzaglia is planning to hold a party outside of her home because her daughter wanted to invite the entire class, but she still prefers the living room and back yard when the group is smaller.
"When you do a home party, it's refreshing. It's a relic these days," she says. 
Alli Fronzaglia's Simple Chocolate Cake
• In a large bowl, stir together the sugar, flour, cocoa, baking powder, baking soda, and salt.
• Add the eggs, milk, oil, and vanilla. Using an electric mixer, mix for two minutes on medium speed.
• Stir in the boiling water. Stir or mix on low speed just until blended, about 15 seconds.
• Pour the batter evenly into the pans. Bake 30 to 35 minutes in the preheated oven, until the cake tests done with a toothpick. Cool in the pans for 10 minutes, and then gently remove the cakes from the pans to a wire rack. Cool completely before frosting.
---
• Add the confectioners' sugar 1 cup at a time until well blended.
• Add the vanilla, cream, and salt. (If you are using food coloring, add it now). Blend on low speed until moistened, and then mix on high until the frosting is fluffy.
Note: This frosting will have a cream color due to the butter and vanilla extract. To make a pure white frosting, use all shortening and use imitation vanilla extract instead of real vanilla extract. Prevent little bits of cake from getting into your frosting and giving the cake a speckled look by doing a "crumb coat." To make a crumb coat, allow the cake to cool completely after baking. Apply a very thin layer of frosting. Place the cake in the refrigerator for at least 30 minutes, then frost as you normally would.