Roxbury Weston Programs 50th Anniversary Celebration
Roxbury Weston Programs celebrated its 50th Anniversary "On The Rox" on Saturday May 9th. The event was hosted by the Board of Trustees & planned by our outstanding Co-Chairs, Alix Mackey & Kait Whitworth. We were honored to be joined by two founders of Roxbury Weston Programs, Imogene Fish & Phyllis Ritvo, who established the summer camp and preschool in 1965. Current parents, alumni, teachers, supporters & friends happily mingled outdoors under a festive tent & toasted the program with cocktails and a fun visit from Roxy's Grilled Cheese food truck. Casey Piche, a parent & Board member, served as emcee for the live auction and enthused the crowd to support the program!
Roxbury Weston Preschool is housed in the education wing of the First Parish Church in Weston town center, and our CATCH (Children Achieving Through Community Hope) afterschool program is for children K- 6th grade and is located at the Church of Christ in Roxbury.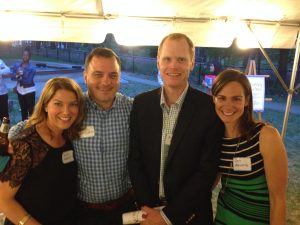 #1 – Alix Mackey, Mark Whitworth, Alex Mackey, Kait Whitworth
#2 – Clyde Yarde, Jennifer & Kyle Betty
#3 – Arielle & Mike Nurczynski, Caroline & Bill Balz