Wingate at Sudbury Introduces One of Massachusetts' First Skilled Nursing Pulmonary Rehabilitation Programs
Full-Time Respiratory Therapist Provides Care for Those with COPD & Patients Recovering From Pneumonia, Emphysema and Chronic Bronchitis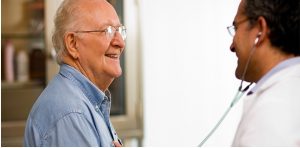 Wingate at Sudbury, a leading skilled nursing and rehabilitation center in the Boston-MetroWest area, announced the launch of their Pulmonary Rehabilitation Program designed to treat high acuity pulmonary patients. Wingate at Sudbury is one of few skilled nursing facilities in Massachusetts to treat pulmonary patients on-site who require specialized treatment. By delivering high quality, individualized care, patients recover more quickly and with optimal results.
The Pulmonary Rehabilitation Program provides patients with a comprehensive respiratory assessment in addition to a complete physical evaluation. An individualized plan of care is created by Wingate's interdisciplinary team, which includes a licensed Respiratory Therapist. Along with medication administration and education, Physical and Occupational Therapy offer strengthening and energy conservation techniques, enhancing individual outcomes. Patients diagnosed with COPD, pneumonia, pulmonary fibrosis, asthma, chronic bronchitis, emphysema, and restrictive lung disease or with tracheostomy tubes are candidates for the program.
The Pulmonary Rehabilitation Program was created under the direction of Dr. Deborah Markowitz, a Board Certified Pulmonary and Critical Care Medicine Physician and the Medical Director of the Intensive Care Unit at Metro West Medical Center, in Natick, Massachusetts. Ron Balboa, a licensed Respiratory Therapist from O2Safe Solutions, a market leader in long-term respiratory care, provides onsite treatment five days per week. Wingate's clinical staff works closely with Dr. Deborah Markowitz and Ron Balboa to ensure continuity and effective care for patients and the best possible individual outcomes.
"At Wingate, we are committed to providing innovative healthcare options for our patients in a setting where they have the comfort and support to rehabilitate and return home as quickly as possible," said Michael Bell, Administrator of Wingate at Sudbury. "In partnership with Dr. Markowitz and Mr. Balboa, we are grateful to be able to provide the high level of specialized care that patients with pulmonary-related illnesses require."
Wingate at Sudbury is accepting pulmonary patients at this time. For more information visit www.wingateatsudbury.com.