WELLESLEY THEATRE PROJECT SELECTED BY NYC PRODUCER TO WORKSHOP MONKEY BOOGERS
Workshop Production October 24 and 25 at WTP Studio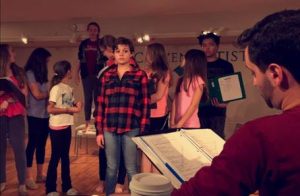 Wellesley Theatre Project (WTP) will present a workshop of the musical, MONKEY BOOGERS Friday, October 24 at 7:00 PM, Friday, October 25 at 2:00 PM and 7:00 PM. All workshop performances will take place at the Wellesley Theatre Project Studio, 98 R Central Street, Wellesley.  Tickets are priced $5 for adults, students, and seniors, for Saturday performances, and $25 for Friday's performance and following reception. Tickets may be purchased online at www.wellesleytheatreproject.org in advance, or at the door.
WTP has been selected by the writers and producer of MONKEY BOOGERS, to be the first group of young performers to workshop the family-friendly musical. MONKEY BOOGERS premiered in NYC for industry professionals in May 2014; and is in the process of creating not only the stage show, but also television, movie, live touring and cd opportunities under the same brand.
Kevin Duda, a NYC-based actor, is leading the development as producer of MONKEY BOOGERS. He, along with writers Stephen Tyler Davis & Brian Feinstein said "Wellesley is the perfect place for us to see how the material is received by our target audience. We know the kids will love it and we can't wait to see them take on these fantastic characters!"
Cast members of the MONKEY BOOGERS workshop are between the ages of 9 and 16, and reside in Wellesley and neighboring communities, Framingham, Needham, Natick, and Waban. Director Benjamin D. Rush says, "MONKEY BOOGERS is fun to work on because it is a Theatre for Young Audiences script, but the material was written with the skills of adult performers in mind….We're proud to have our students selected for this unique experience." This will be the first project of the fall for the audition only WTP Tour Group.
Wellesley Theatre Project is an arts academy and a Wellesley nonprofit devoted to providing students (PreK – 12th Grade) with the opportunity to study and experience theatre and performing arts through year round classes, staged productions, workshops and summer camps.
Registration is open for WTP's Fall Classes and Productions. For more information about MONKEY BOOGERS or fall classes or productions, visit the website, www.wellesleytheatreproject.org or call 781-235-1550.