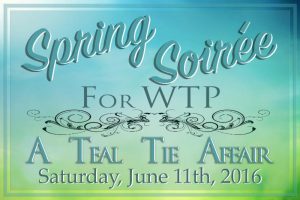 Wellesley Theatre Project will hold a Spring Soirée on Saturday, June 11th, at 6:30pm in the Wellesley Community Center's Henderson Hall. This fundraising event will provide entertainment and fun for the whole family including a photo booth and performances by students.  Ticket and silent auction sales help support this local nonprofit which has an active community service program and provides scholarships, after school programming, performance opportunities and theatre education to area youth. Tickets for adults are $55 and include food by Better Life Food open bar with wine, beer, and our signature cocktail; kids are $15. To purchase tickets to the event, please visit here to RSVP by June 4th. 
Executive Director Hillary Drew states, "We are delighted to be holding this event in celebration of another successful season at WTP. The past year has been full of students, classes, productions, outreach programs, and lots of theatre fun. We have  seen tremendous growth in our students and community outreach programs.  We can't wait to see what the next year has in store!"
In keeping with their community outreach mission, Wellesley Theatre Project students, known as Citizen Artists, are frequently found performing at the Elizabeth Seton Residence, Waterstone at Wellesley, as well as the Wellesley Free Library, and Wellesley events like the Wellesley Wonderful Weekend Parade.
Wellesley Theatre Project is an arts academy and a Wellesley nonprofit devoted to providing students (PreK – 12th Grade) with the opportunity to study and experience theatre and performing arts through year round classes, staged productions, workshops and summer camps.
Registration is open for WTP's 2016 Summer Camps. Sessions include three production camps geared for students between 2nd and 12th grade in addition to one week Theatre Arts camps for Pre K-12th grade. The production camps are: Disney's Alice in Wonderland Jr., Kids (Grades 2-8), Annie (Grades 2-12), and In the Heights (Grades 8-12).
For more information on WTP's Spring Soirée or upcoming camps and productions, please visit here or call 781-235-1550. All proceeds from this evening will support Wellesley Theatre Project, a 501(c)(3) tax-exempt organization.